Penguins GM Jim Rutherford announced today that he hired Mike Johnston as the team's new coach, ending a prolonged three-week search that began when Dan Bylsma was fired on June 6 and included at least one much-publicized swing and miss.
Rutherford also announced that one-time Pens power forward Rick Tocchet joined the club as an assistant coach. Jacques Martin will remain with the organization in an unspecified role. Goaltending coach Mike Bales and video coordinator Andy Saucier will continue to serve in their present capacities. Long-time assistants Tony Granato and Todd Reirden were dismissed.
For the 57-year-old Johnston it's been a long, winding road to an NHL head coaching job. He began coaching at Camrose Lutheran College back in the 1980s and worked his way up to an associate coaching position with Vancouver in 1999. After departing the Pacific Northwest in 2006, the Nova Scotia native served in a similar capacity with Los Angeles for two years.
The following season he assumed the dual role of coach/GM with the moribund Portland Winterhawks. Under Johnston's stewardship, Portland thrived. In 2009-10 the Winterhawks registered a 48-point improvement. In 2012-13 they captured the Ed Chynoweth Cup (WHL title) and reached the Memorial Cup Finals.
Along the way he earned a reputation as a builder—a quality that should serve him well with a black-and-gold squad that's primed for a retooling if not an outright reconstruction. He's also credited with developing high-profile Penguins draft picks Joe Morrow and Derrick Pouliot.
In terms of his preferred style of play, Johnston preaches a puck-possession game eerily similar to that of his predecessor.
"My basic framework of the system is puck possession, puck management, tempo and pace," he explained. "You want your players to have options in a game, so in every part of the game, from breakout getting out of our zone to offensive zone entries, we want to give our players as many options as possible. We want them to use those options and we want to pick the right options."
Hopefully, Johnston's philosophy will be a good fit for the offensive-minded Penguins, who still possess an elite core of superstars in Hart Trophy winner Sidney Crosby, Evgeni Malkin, and Kris Letang.
He'll need to improve the team's battle level, character, and defensive play as well.
*Be sure to check out Rick Buker's books,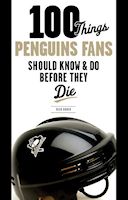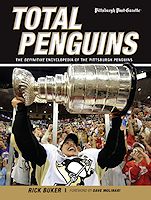 available at TriumphBooks.com, Amazon.com, and BarnesandNoble.com