Few Penguins players past or present created more of a stir on the ice than Paul Gordon Baxter. A born-again Christian who embraced the spiritual principle that it's better to give than receive, the Winnipeg native meted out enough punishment to merit an astronomical 2526 minutes in the sin bin over the course of his 13-year-pro-career.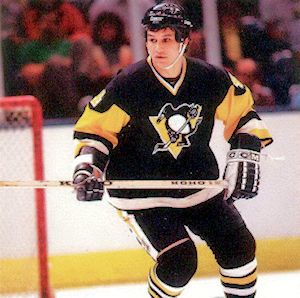 Baxter's rough-and-tumble style often overshadowed his skill. Possessing a hard shot and good offensive instincts, he notched 10 goals and 40 points (along with 384 penalty minutes) during his only season in junior hockey. Hungry for talent, the Cleveland Crusaders of the World Hockey Association inked the 19-year-old defenseman to a deal.
The 5'11" 200-pounder caught the Penguins' eye in 1974 during a brawl-filled preseason contest with the Crusaders. Intrigued by Baxter's blend of toughness and talent, the Pens selected the rugged youngster with their third choice in the 1975 Amateur Draft. Baxter, however, was reluctant to jump ship. He would play four full seasons in the WHA and earn considerable notoriety as the circuit's all-time penalty king.
Already a battle-hardened veteran at age 25, Baxter finally joined the Penguins as a free agent during the summer of 1980. His stint with the black and gold had scarcely begun when he suffered a potential career-threatening injury. On November 5, 1980, linesman Bob Hodges accidentally skated over Baxter's hand while breaking up a fight between the rugged defender and Toronto's Rick Vaive, severing four tendons in Paul's right wrist.
"I don't feel any pain," Baxter said from his bed at St. Francis Hospital. "I'm sure I'll be OK. The Big Fella's taking care of me."
Proving to be prophetic, No. 4 returned to the lineup after the holidays and emerged as one of the Pens' top defenders. Displaying his trademark toughness, the mobile rearguard served 204 minutes in the slammer in only 51 games.
Baxter was just warming up. Paired with equally pugnacious partner Pat Price, the bellicose blue-liner rang up a league-leading 409 penalty minutes in 1981-82—the second highest single-season total in NHL history. Remarkably, "Baxie" found time to tally nine goals and 43 points.
Soft spoken away from the rink, the hard-nosed defender displayed a special knack for inflaming the opposition. On October 29, 1981 he sucker-punched Philadelphia's Behn Wilson—momentarily separating the Flyers' baddie from his senses and inciting a wild five-on-five brawl. Three weeks later Montreal tough guy Chris Nilan heaved a puck at him. On December 14, Rangers behemoth Barry Beck left the bench to engage the peppery Pens defender, earning a six-game suspension.
Even fans got into the act. During the emotionally charged playoff series against the Islanders in the spring of 1982, Baxter's ultra-physical play drew death threats from a crazed New York partisan.
Asked to reconcile his hell-for-leather style with his faith, he responded, "People think being a Christian means being meek and mild, but they don't realize the courage and toughness Jesus displayed in his life."
Baxter remained productive in 1982-83, potting a highly respectable 11 goals. However, he plummeted to a minus-49. Determined to clean house, GM Eddie Johnston released the veteran defender.
Paul spent the next four seasons with Calgary, where he was a chief antagonist in the notorious Flames-Oilers "Battle of Alberta" feud. Redeeming his reputation as a solid NHL defender, Baxter was a sparkling plus-39 in 1984-85. He helped Calgary reach the Stanley Cup Finals the next season before retiring.
Considered a top coaching candidate, Baxter served as an assistant for several NHL clubs throughout the 1990s and early 2000s. However, a coveted head coaching job remained a step away and his star gradually waned.
Paul presently coaches the Wichita Falls Wildcats of the NAHL.
*Be sure to check out Rick Buker's books,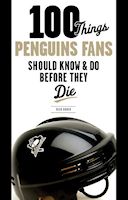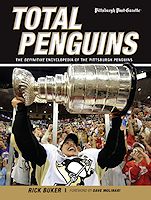 available at TriumphBooks.com, Amazon.com, and BarnesandNoble.com