Watching Blake Comeau circumnavigate the Colorado Avalanche not once but twice before scoring the winning goal in overtime on Thursday night was the perfect ending to a near-perfect 60 minutes of hockey.
The Penguins fired off a season-high 48 shots. They outhit the Avs.  For good measure, they blocked 13 shots. Or, as Dan Bylsma used to say in his patented pregame speech: "Fast. Physical. Gritty hockey."
You betcha.
More and more, I like this Penguins team. In the face of mounting adversity (and the mumps) they've displayed a ton of heart. When the chips are down they keep on comin'.
It's evident they're well coached. Gone is a nagging tendency to unravel under pressure. Indeed, the Pens are playing the type of relentless, grind-it-out hockey under Mike Johnston that succeeds in the playoffs. They're 9-1-4 in one-goal games. They look totally at ease in tight, low-scoring affairs.
I can't say enough about the job GM Jim Rutherford has done. Virtually every move—such as signing Comeau and Steve Downie for a combined $1.7 million—has reaped significant dividends. Almost overnight the black and gold has morphed from a stale, tired bunch that relied too heavily on its superstars into a balanced squad that's playing with renewed purpose and fire.
Indeed, the entire team seems reborn. Evgeni Malkin oozes passion game in and game out. Kris Letang is finding his groove again following a lost season. Former fall guy Simon Despres has been a tower of strength on defense.
Even the kids have pitched in. Nonstop hustler Bryan Rust looks NHL-ready. The CONSOL turns electric every time super-pest Bobby Farnham hops off the bench.
None have had a greater impact than goalie Marc-Andre Fleury (2.01 GAA, .930 SV%, 6 SH). Two seasons ago "Flower's" future in the 'Burgh was very much in doubt. Now he's the cornerstone for a legitimate Stanley Cup contender.
*Be sure to check out Rick Buker's books,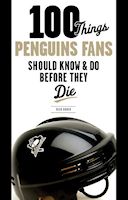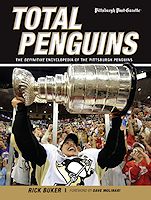 available at TriumphBooks.com, Amazon.com, and BarnesandNoble.com