I give new Penguins GM Jim Rutherford high marks for his off-season moves. Faced with dire cap constraints, he refused to overpay the team's free agents, signed skilled defenseman Christian Ehrhoff to a bargain contact, and inked key RFAs such as Brandon Sutter and Nick Spaling to new deals. Along the way JR significantly upgraded the team's bottom six.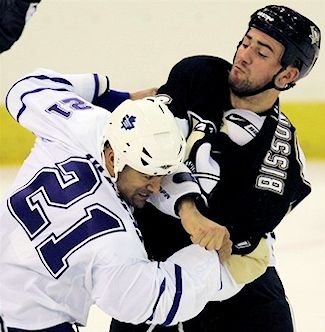 The rebuild is 99 percent complete. All the Penguins need now is a little Nasty…free-agent enforcer Paul Bissonnette.
It's true that Rutherford signed aggressive winger Steve Downie in July. And rugged defenseman Robert Bortuzzo backs down from no one. Still, it's hard to imagine either of them neutralizing a Chris Neil or a Milan Lucic.
That's where Bissonnette can help. "Bizz Nasty" isn't the NHL's reigning heavyweight champ, but he's a capable and respected fighter. He has no qualms about dropping the mitts to defend a teammate.
Along with a knack for keeping foes honest, Bissonnette possesses decent speed for a tough guy. Plus, he's a popular presence, both in the locker room and on social media.
"Right now he's just looking for a good organization where he can contribute more than he's been able to, to date, in the last couple years in Phoenix," his agent Mark Guy said. "He wants to be in a position where he can compete for a solid fourth-line position and be a great team guy."
Bissonnette has black-and-gold pedigree. A fourth-round pick of the Penguins back in 2003, he nearly made the team as an 18-year-old defenseman. After switching to left wing, Paul skated in 15 games for the Pens in 2008-09 (and won four fights) before being claimed on waivers by Phoenix. In 202 career NHL games he's scored seven goals and racked up 340 penalty minutes.
Finding room under the cap for the 6'2" 216-pounder—who earned $750,000 with the Coyotes last year—might be a challenge. But it's a relatively small price to pay for a touch of Nasty.
*Be sure to check out Rick Buker's books,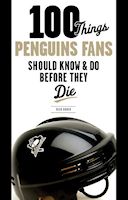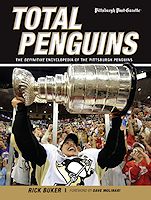 available at TriumphBooks.com, Amazon.com, and BarnesandNoble.com