Today I have a few quick hit topics that I would like to cover, and as always, let's get straight to the point.
Gambling on Bennett
For all of the Beau Bennett haters out there I have two words.
Markus Naslund.
For those of you that don't remember, Naslund was a first round draft pick of the Penguins who had a few unproductive years in Pittsburgh. In addition to his underachieving, he was buried on the depth chart behind the Penguins wealth of star forwards featuring Mario Lemieux and Jaromir Jagr. Naslund was traded to the Vancouver Canucks for a basically nothing, and went on to have an amazing career during which he scored 395 goals and 869 points. This is typically regarded as the worst trade in Penguins history.
I'm not ready to put Bennett in the same talent category as Naslund, but the Pens would risk a similar situation. Bennett is immensely talented and, as shown by his brief play this season, he makes everyone around him better. He is a gifted playmaker and, if he can stay healthy, a valuable asset to his team.
Injuries are a part of the game, even a string of injuries.  Freak things happen, as anyone who has followed the Penguins for any length of time should know. Remember back in 2006 when Evgeni Malkin  separated his shoulder in his first NHL exhibition game  after colliding with John LeClair?
It was purely bad luck, and Bennett has had nothing but bad luck, but surely that has to change some time.
If you want to take something and run with it, go with this. Bennett is a RFA this off-season, and he currently has a cap hit of a mere 900k. He has immense potential to warrant a raise, but no leverage. Despite his talent he has no true NHL body of work to make his case for a big contract, so if Bennett's luck does change, the Penguins could really tie him up at a bargain price, but it will be a gamble for any amount.
Comparing Penguins to Penguins
Just for funsies let's compare the 2014-15 Penguins to the Pittsburgh teams who have won the Stanley Cup.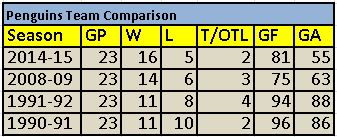 Overall this years team appears to have the best start across the board. The goals don't match up to the 90's team, but in that era goals flowed faster than the Allegheny River.
Thus far in 2014 the Penguins have faced a large amount of adversity , including Olli Maatta's cancer diagnosis, and the blood clot shocker of Pascal Dupuis. All of these teams faced adversity of varying degrees.
The 1990-91 Penguins were without Mario Lemieux for the first half of the season due to his lingering back injury.
The 1991-92 team lost their coach, "Badger" Bob Johnson to brain cancer, on November 26th.
The 2008-09 Pens had a large roster turnover, signing 9 free-agents and losing 10 to other teams, including Marian Hossa. They also traded the free-agent rights of long-time Penguin Ryan Malone to Tampa Bay.
In the end, each team carved their own identity, and this team will be no different.
A trade possibility reminiscent of…
The most discussed name in NHL trade rumor circles is undoubtedly David Perron.
I truly do not believe that the Penguins and Edmonton  Oilers are likely trade partners, but if Jim Rutherford could pull it off it may be the missing piece of the puzzle.
Each Cup winning team has had a big trade mid-season that has pushed it over the edge. Ron Francis, Rick Tocchet, Bill Guerin. This could be that deal for Rutherford.
If the Penguins were able to pry the underachieving Perron away from the lowly Oilers, I would more compare the impact to that of a more recent acquisition in Patric Hornqvist. I am not comparing the two players styles, but that of a player with enormous potential that would be coming from a team that doesn't take advantage of his talents.
Perron scored 28 goals last year, but his stock may never be lower than now as he has only scored 3 goals going more than a quarter into this season. It would truly be buying low.
Some salary must go the other way as Perron has a cap hit of $3,812,500, but is under contract through next season, so he wouldn't be bolting quickly like Hossa.
Don't get me wrong, Perron isn't the next coming of Mario, but he fits the description of exactly what the Penguins needed even before the loss of Dupuis.
A second line of Kunitz, Malkin, and Perron would look awfully nice.
Everything about this Penguins team is new. New players, new coaching staff, new General Manager. There is every reason to keep looking forward, but it doesn't hurt to look back for inspiration every once in a while.
Until next time…
Remember to follow me on Twitter Follow @HypedUpHockey