Paced by two-point efforts from superstars Evgeni Malkin and Sidney Crosby, the Penguins outclassed the fading New York Rangers, 4-2, on Wednesday night to grab a commanding 3-1 lead in their second-round series. Despite losing defenseman Brooks Orpik late in the first period to an apparent knee injury, the black and gold limited the Rangers to 15 shots on goal.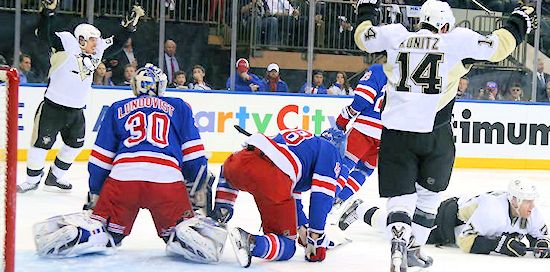 "We played a very solid game for 60 minutes," Marc-Andre Fleury said. "We didn't give them much."
The Pens jumped to the early lead thanks to some great teamwork by the "Two-Headed Monster." Malkin cruised into the Rangers' zone and found Crosby with a crisp cross-ice pass in the left circle. Sid's return pass glanced off the skate of Marc Staal to Malkin, who whipped a blind backhander past Henrik Lundqvist on the short side.
New York finally solved Fleury at 5:30 of the second period on a nice individual effort from Carl Hagelin. The speedy Swede burst between Matt Niskanen and Rob Scuderi and beat Fleury to the glove side, ending a Rangers goalless skein that stretched back to Game 1.
Malkin drew a tripping penalty in the offensive zone late in the period, placing Mike Lange's proverbial turkey squarely on the table for New York. But the Rangers turned the puck over in the neutral zone, leading to Brian Gibbons' shorthanded breakaway. The hustling winger fanned on his shot, but Brandon Sutter beat Ryan McDonagh to the loose puck and flipped it over a prone Lundqvist for the Pens' third shorty of the postseason.
Seven minutes into the final period Jussi Jokinen extended his points streak to eight games when he struck for an insurance tally. Jokinen swung behind the Rangers' net, curled to his forehand and unleashed a sharp-angle shot from below the left circle that hit Staal and deflected in. It was the crafty veteran's sixth goal of the playoffs, tying him with ex-Ranger (and current King) Marian Gaborik for the postseason lead.
The Rangers closed the gap to 3-2 on a nifty goal by Mats Zuccarello at 13:07. However, the Pens countered 57 seconds later when Malkin circled behind the net and fed Chris
Kunitz, who was left unattended in the slot. "Kuny" whipped the puck past Lundqvist to take the starch out of the Rangers.
*Be sure to check out Rick Buker's books,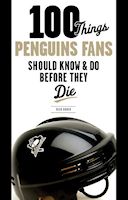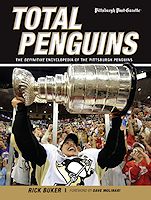 available at TriumphBooks.com, Amazon.com, and BarnesandNoble.com