Few teams endured more upheaval over the summer than the Pittsburgh Penguins. In a shakeup of seismic proportions, the black and gold replaced their long-time coach and GM, allowed several key performers to depart through free-agency, and traded away a 40-goal man.
It may have been worth it.
While the 2014-15 NHL season is only a month old, the new-look Pens have made a favorable impression. They finished October atop the Metropolitan Division with a highly respectable record of 6-2-1. The rejuvenated offense is piling up goals at a rapid pace. The piping-hot power-play is clicking at nearly 40 percent; the defense and penalty-killing have improved by leaps and bounds after an uneven start. On Thursday night our boys passed an early test when they conked the defending-champion Kings.
Here's my early-season report card.
FRONT OFFICE (A): When Jim Rutherford stepped out of retirement to assume the General Manager post in June, he faced some stiff challenges. The team was strangled by salary-cap constraints. No fewer than 15 players who skated for the Pens in 2013-14 were unrestricted free-agents—including high-profilers Jussi Jokinen, Matt Niskanen, and Brooks Orpik.
JR had the unenviable task of dismissing coach Dan Bylsma and finding a suitable replacement…pronto. And, he had to oversee the entry draft and sign free-agents (with limited cap space) while satisfying an ownership mandate to add character and grit.
Thus far he's pushed all the right buttons.
COACHING (A): More than one hockey buddy used the word professorial to describe new Penguins coach Mike Johnston. It fits, doesn't it? Listening to him during interviews, one gets the impression he's forgotten more about hockey than most of us ever hope to know.
Johnston and assistants Gary Agnew and Rick Tocchet have the Pens playing with fervor and tenacity, while weaning them off of the high-risk plays and poor decision-making that plagued the club late in the Bylsma Era.
Perhaps his most impressive feat was getting the team to refocus following ugly come-from-in-front losses to Philly and Detroit.
FORWARDS (B+): Nowhere has the Penguins' shakeup had a greater impact than on the top line. Patric Hornqvist's kamikaze style and shoot-first mentality has revitalized Sidney Crosby, who's got more north-south in his game than at any time in recent memory. With Hornqvist blitzing the net, bombproof Chris Kunitz has adapted by scoring more from medium range.
Popular Pascal Dupuis has been a huge plus. His hustle and energy are contagious. Evgeni Malkin has shaken off a preseason ailment—and the trade of pal James Neal—to score at better than a point-per-game clip. Newcomers Blake Comeau, Steve Downie, and Nick Spaling have added speed, grit, and depth. Brandon Sutter's been good, albeit streaky.
The only weak link is the fourth line, which has yet to earn Johnston's trust. Aging Craig Adams is effective, but only in spurts. Zach Sill brings toughness and a defensive conscience, but little in the way of offense. Marcel Goc hasn't established himself as a consistent contributor.
DEFENSE (B+): Forget what I wrote in my last feature (never post in anger). The retooled defense has played remarkably well—especially of late. Silky-smooth newcomer Christian Ehrhoff and veteran Paul Martin have formed a terrific tandem. Ehrhoff, in particular, has been outstanding in his own end.
Kris Letang continues to commit the occasional gaffe, but seems to be developing chemistry with Olli Maatta. Speaking of Maatta, Tocchet paid the courageous youngster the ultimate compliment, referring to No. 3 as a "video-game defenseman" who always makes the proper play.
The third pairing—a perceived soft spot—has been a pleasant surprise. Much-maligned Rob Scuderi appears to have shaken off the lingering effects of last season's broken ankle. There's no questioning his on-ice leadership. Freed from Bylsma's doghouse, perennial prospect Simon Despres is ready to fulfill his considerable promise. As an added bonus, he's displayed a feisty edge.
GOALIES (A): With three shutouts in his past four starts Marc-Andre Fleury's in a supernatural groove. His rebound control—an old bugaboo—has been sound. So has his positioning. Just as important, the team rallies around him.
Thomas Greiss sparkled for 57 minutes against Detroit before the roof caved in. He's a solid backup.
*Be sure to check out Rick Buker's books,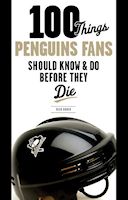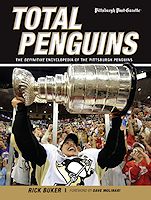 available at TriumphBooks.com, Amazon.com, and BarnesandNoble.com