Through the first four games of their opening-round series with Columbus—and ever since the Olympic break—the Penguins have looked like a team in search of an identity.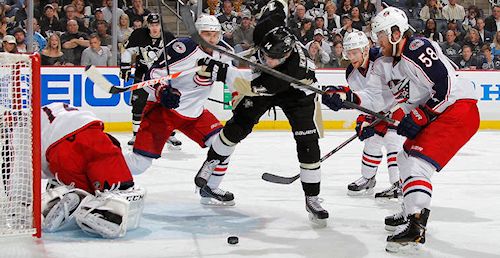 They may have found one on Saturday night. Called out by coach Dan Bylsma for a less-than-stellar effort in Game 4 and under intense fire from the local media, the Pens circled the wagons. Playing 60 minutes of playoff-worthy hockey for the first time in recent memory, the black and gold methodically churned past Columbus, 3-1, in Game 5 to snatch a 3-games-to-2 series lead.
The Penguins fired 51 shots—a CONSOL Energy Center playoff record—and pressured Columbus all game long. Buoyed by bounce-back efforts in the faceoff circle from Brandon Sutter and Joe Vitale, the Pens won 57 percent of the draws. With Chris Kunitz (six hits), Craig Adams and Vitale (five apiece) leading the way, the locals nearly matched the physical Blue Jackets check for check. And while Sidney Crosby remained on the schneid, he unleashed six shots and assisted on the Pens' first goal.
Although the determined Blue Jackets took the early lead on a power-play goal by Boone Jenner, the Penguins never wavered. Kunitz knotted the score at 7:42 of the second period in his typically gritty fashion, whacking home a second-chance power-play goal from the door step.
The go-ahead tally resulted from a beautiful play by winger Lee Stempniak. Doing his best Crosby imitation, "Stemp" gathered in a short pass early in the third period and dipsy-doodled around two Columbus defenders before slipping the puck to Sutter. Columbus goalie Sergei Bobrovsky made the initial stop, but couldn't control the rebound. Jussi Jokinen arrived as Johnny-on-the-spot to poke it home. Kris Letang capped off the scoring—and by far his best game of the series—with an empty-netter at 18:59.
It was especially gratifying to watch Marc-Andre Fleury rebound from the ghastly giveaway that cost the Pens a victory in Game 4. "Flower" made 23 saves to earn the No. 2 star of the game. During postgame interviews, he couldn't help but flash his shy smile.
After all, the Penguins are in the driver's seat.
*Be sure to check out Rick Buker's books,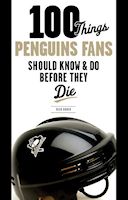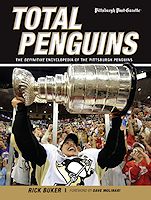 available at TriumphBooks.com, Amazon.com, and BarnesandNoble.com