The Penguins have recently changed their forward combinations to a more evenly balanced setup. Some of the changes I wholeheartedly agree with while others, I feel, aren't being handled properly. Let's get straight to the point.
Patric Hornqvist's Move to Evgeni Malkin's Wing.
Earlier in the week I wrote a full article detailing why the Penguins needed to make this move, then shortly before I was ready to publish said article it was reported that this indeed was going to happen.
Into the trash bin went the article.
That being said, most of the points that I was going to make actually have come true, so allow me to explain why I was right.
Before I begin, I should tell you that much of my argument is based on Corsi rating and Corsi For %. For those not familiar with advanced stats:
Corsi = Individual Shots directed at the net including shots that missed the net and shots that were blocked.
CF% = Corsi for percentage = Corsi for / (Corsi for + Corsi against). Kind of like a +/- for attempted shots.
These are big indicators of puck possession, which is what Penguins coach Mike Johnston's system is largely based upon.
Malkin's 5 v 5 even strength CF% this season overall without Hornqvist is 50.6%. Malkin played the majority of the early season games with Pascal Dupuis, earning a 53.7% for the duo. When Malkin and Hornqvist have played together they have earned a 72.1 CF%. They do have a small sample size of 5 v 5 Time On Ice together, but it is still a good indicator. Prior to the lineup change Malkin scored 5 of his 6 goals on the power play and only had 18 5 v 5 shots on goal.
To show how that move benefited the top-six as a whole, Sidney Crosby had a 58.4 CF% while playing with Hornqvist. He currently has a 67.9% with Dupuis.
Depending on who you talk to, some "experts" don't care for advanced stats such as Corsi, and honestly, until recently I was one of them and I am still learning their value, but in today's NHL it is hard to ignore them.  To show how the rating reflects play, the Penguins are #9 in the league with 34 goals scored in 5 v 5 play and #3 in goals allowed (19). Their CF% ranks #3 with a 53.9 as a team.
Penguins Lines
If I am making the Pens lines, they would look something like this.
Kunitz – Crosby – Dupuis
Bennett – Malkin – Hornqvist
Comeau – Sutter – Downie
Spaling – Goc – Adams
First Line
Crosby, Kunitz, Dupuis is a proven commodity, so I don't need to argue their merit.
Second Line
The most questionable spot on the Penguins roster, in my opinion, is the third member of the Malkin, Hornqvist line. The team seems to be rotating Nick Spaling and Blake Comeau in this spot. I like both of these players, but not in this role.
Beau Bennett needs to be a top-six player. He is not a 3rd liner, despite Johnston's insistence upon playing him there. He is a skill player who needs to play with Malkin, and if he cannot succeed there it should be time for GMJR to find another option outside of the organization.
Beau Bennett, Evander Kane, Joffrey Lupul, someone must step up or be brought in to solidify this spot in order for the Penguins to be considered a true Cup contender.
Third and Fourth Lines
Talent wise, with a couple of tweaks, the Penguins have two third lines.
Brandon Sutter has become the player that the Penguins expected, and need him to be.
Blake Comeau, Steve Downie, and Nick Spaling have added badly needed strength to the bottom-six.
We haven't seen the best of Marcel Goc quite yet, and he could easily be a 3rd line center on many other teams.
I still would rather have seen Oskar Sundqvist on the Penguins roster as opposed to Craig Adams, but the team seems intent on keeping Adams, so I guess that we have to live with it. The only possible change is if the Penguins keep Bennett on the 3rd line and add another top-six winger. That would move Adams down the depth chart to being a press box observer.
Dupuis to Miss
Dupuis to miss Tuesday's game at Montreal, in his hometown: http://t.co/7G194TWRk0

— Jason Mackey (@Mackey_Trib) November 17, 2014
With news breaking that Pascal Dupuis will not be making the trip to Canada with an undisclosed issue, Blake Comeau practiced alongside Crosby and Kunitz on the top line. Depending on the length of time that Dupuis will miss, I would rather see the Penguins use Jayson Megna to fill this spot rather than messing with the other lines. Megna has performed admirably in the past while playing with Sid.
Power Play
The Pens power play has been the best in the league, average, and a liability at times, depending on when you watch it. I have never been a fan of Malkin playing on the point. I would rather see Christian Erhoff or Paul Martin paired with Kris Letang on the point with Crosby, Malkin, and Kunitz or Hornqvist up front.
The 5 v 4 power play has scored 17 goals for tops in the league, but is tied for next to last in the league after giving up 3 shorthanded goals. Their CF% 5 v 4 PP is ranked 26th in the league at 85.9.
———
To date, Jim Rutherford and Mike Johnston have made mostly right moves and the team is still growing and learning about the system, and each other. Things are good, and with the right decisions and a little luck, it will only get better.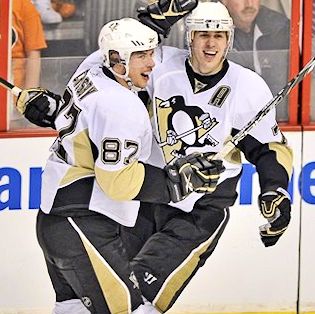 Up next, Part 2: Defense
Remember to follow me on Twitter @HypedUpHockey