Fresh off losing top-line forward Pascal Dupuis, and an ugly home-and-home sweep at the hands of the New York Islanders, the once infallible Pittsburgh Penguins are now left searching for answers.
The Penguins already had a top-six forward vacancy alongside Evgeni Malkin , and now with Dupuis out, things have gotten more…concerning.
In my last article I reviewed the Penguins forward situation and planned for my next piece to review the defense. Given the recent events with Dupuis, and how acquiring a forward likely impacts the Penguins defensive present and future, let's call this "Forward Thoughts 1.5" with defensive observations worked in around the edges.
Prior to losing Dupuis, the Penguins had six regular players with top-six talent in Sidney Crosby, Malkin, Chris Kunitz, Patric Hornqvist, Beau Bennett, and Dupuis.
Now Dupuis is out, and Coach Mike Johnston insists on keeping Bennett on the third line with Brandon Sutter and Steve Downie. Johnston has been filling the top-six holes with bottom-six talent players in Nick Spaling and Blake Comeau. Don't get me wrong, I love what Spaling and Comeau bring to the table, but not on the wings of superstars.
GM Jim Rutherford has a lot to consider while he works to solidify this team as a bonafide cup contender.
First we need to think short-term. Clearly a trade isn't going to happen tomorrow, and doesn't need to, so the team needs to find a way to balance all lines.
Toward the end of Saturday's game, Johnston mixed up the lines a bit, returning Hornqvist to Crosby's line, and putting Bennett and Sutter with Geno. This is a start.
My balanced, short-term lines are as follows.
First line:
Kunitz – Crosby – Megna
Clearly Jayson Megna is not the long-term answer here, but he makes more sense than Blake Comeau. Megna has played with Crosby before and has filled in adequately when he has done so.
Second line:
Bennett – Malkin – Hornqvist
Bennett needs to be in a top-six role. Despite some success, Bennett on the third line does not benefit the team in the long run. He is a skill player and playing with other skill players will be a positive for the entire line.
Downie had a good fight, but Bennett and co. had a good shift interrupted. Ill timed. #Pens

— Greg Thornberry (@HypedUpHockey) November 23, 2014
During a shift early in the game on Saturday, Malkin and Hornqvist had sustained offensive zone pressure. Nick Spaling was the third of the forward trio, and was clearly a few steps behind the other two. Given the chances on that shift, one has to wonder what could have happened if a higher caliber forward was there instead of Spaling.
Hornqvist hasn't been the same since leaving Crosby's wing, but should be given time to gel with Malkin, as this balances the lines better than loading up the top line. Assuming that Johnston decides to keep Bennett with Sutter, Hornqvist on Malkin's line is a must, unless they move Kunitz away from Crosby, but honestly, does anyone see that happening?
Third and Fourth lines:
Comeau – Sutter – Downie
Spaling – Goc – Adams
Not much to say here, these guys are bottom-six players and should be in this format to maximize the…wait for it…bottom-six positions.
So, now that we have the short-term out of the way, let's get to the long-term, and the reason that you all are here, trade talk.
Rutherford could go a few different directions, such as a rental, but the market of high-end players on expiring contracts isn't as solid as in past years, and with the Penguins current age/contract situation up front, a rental wouldn't be good business.
This is a small sampling of wingers that are set to be UFA's this offseason that are currently in top-six roles.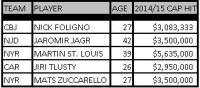 Not exactly the crème de la crème, and let's face it, Jagr and St. Louis aren't happening.
I wouldn't hate the idea of Foligno, even though this could be a fluke of a year, but being that the Blue Jackets are in the same division as the Penguins, and are a budding rival, it's not likely to happen.
As far as a non-rental player, there haven't been many rumors floating around involving the Penguins. The last time real trade speculation was attached to the Penguins, names like Evander Kane, Joffrey Lupul, Ryan Kesler, and Nail Yakupov were mentioned.
Kesler has already been moved.
Kane and Yakupov have been rumored to every team in the NHL thus far.
Does anyone really want to bring any part of the Maple Leafs circus to Pittsburgh with Lupul?
Sabres forwards Drew Stafford and Chris Stewart have also been mentioned, but they really don't seem like a good fit. Jordan Eberle came up in rumors as well, but the Penguins biggest trading pieces are defensemen, and that isn't really what Edmonton needs.
There are some underperforming, high-profile players on teams headed south such as, Ryan O'Reilly Matt Moulson and David Perron, but none of them really sound attractive.
As mentioned, the Penguins most tradable pieces come from their organizational depth on the blue line.
Paul Martin is the most mentioned as he is a UFA after this season and almost surely will not be back in Pittsburgh. The hard part is that Martin is having a great season and if the Penguins are to make a deep playoff run, he would be a valuable piece.
Derrick Pouliot, in my opinion, should be nearly untouchable…nearly.
Some have said that Pouliot will be better than Olli Maatta, and with his play in Wilkes-Barre, he has done little to discourage that talk. The Penguins would really need to hit a home run in a trade involving Pouliot.
Scott Harrington and Brian Dumoulin are NHL ready, and likely would be in the big league on most other teams. These two are really the Penguins best chance at a quality trade.
Ray Shero's "strategy" was to utilize the defensive prospect depth as trade bait and turn them into quality NHL forwards. Shero is gone, but as long as the "assets" remain the same, the strategy should be utilized as intended.
Kris Letang, Christian Ehrhoff, and Maatta have firm spots. Simon Despres is an emerging talent. Rob Scuderi isn't going anywhere, and Robert Bortuzzo is a solid 6th or 7th defenseman. Along with Martin still in play there isn't much room for the youngsters this season, so use your strength to address a perceived weakness on the top two forward lines.
———
In the long-term as we head to the playoffs, I would like to see the Penguins lines look something like this.
Kunitz – Crosby – Hornqvist
I have been a very firm supporter of Hornqvist moving to Malkin's line, and have many stats to prove why it should be so, but let's face it, neither Crosby, or Hornqvist have been the same since the move took place. They just seem to fit with each other.
Bennett – Malkin – TBD
I have already spoken of why Bennett should play with Malkin, and the potential new forward should occupy the other wing. Nick Spaling just isn't going to cut it.
No changes to the bottom lines. They are what they are. The Penguins acquired those players to solidify the bottom lines, and that is where those players belong.
——–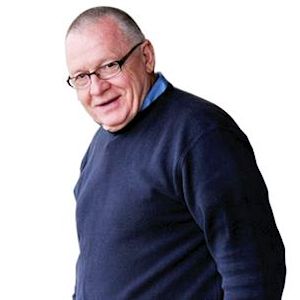 To this point Rutherford has made all the right moves and has given us no reason to doubt him. He may not go out and get the big names like Shero did with Hossa and Iginla, but that isn't necessarily a bad thing. As long as a player can get it done who cares how high-profile his name is.
Now let's be honest, how many of you knew all about Patric Hornqvist before the big trade? Remember, I said be honest.
Until next time…
Remember to follow me on Twitter @HypedUpHockey