Somewhere Craig Patrick must be smiling. Not an arrogant, misery-loves-company smile. More of a rueful, knowing grin.
Aside from Mario Lemieux, no one did more to save the Pittsburgh Penguins than Patrick. He literally dragged the franchise from the gutter of mediocrity in the early 1990s and willed it onto a championship course. However, following several down years the Hall-of-Fame executive was unceremoniously axed in 2006.
Such is the nature of sport. What have you done for me lately? Or, as the old saying goes, coaches (and GMs) are hired to be fired.
And so it was with Dan Bylsma and Ray Shero, hands-down the most successful coach/GM tandem in franchise history. Following five consecutive playoff exits at the hands of lower seeds, they were fired by Penguins CEO and president David Morehouse. Bylsma's dismissal was particularly cruel—he was left hanging by a thread for several weeks before receiving the pink slip.
I can't help but feel for them. Both are good men. They represented the team—and our city—with dignity and class. They won. Under Shero's watch, the Pens enjoyed their finest eight-season run ever. Bylsma reached 250 victories faster than any coach in NHL history. In the end it wasn't enough to make up for the crushing postseason defeats.
Dan and Ray by the Numbers
Regular Season

Playoffs

W
L
OL
PTS
PCT
W
L
PCT
Bylsma
252
117
32
536
.668
43
35
.551
Shero
373
193
56
802
.645
58
45
.563
I'm not saying they were perfect. Shero was exceedingly loyal to his players and staff, a trait that manifested in the stupefying long-term deal he struck with shopworn Rob Scuderi—one that ultimately may have cost him his job. Bylsma's single-minded approach and dogged devotion to a puck-retrieval system hasn't played as well since obstruction began creeping back into the game.
There are far worse flaws to have as human beings.
When all is said and done, I hope they'll be remembered for the enormous contributions they made to the team and our community. Thank you, Dan and Ray, for giving so much of yourselves and for helping to provide so many great hockey memories. It's safe to say the Pens wouldn't have won the Cup in 2009 without you.
Here's hoping you both land on your feet—and soon.
*Be sure to check out Rick Buker's books,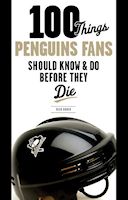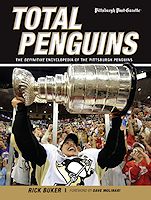 available at TriumphBooks.com, Amazon.com, and BarnesandNoble.com