I'll never forget the day then-Penguins GM Craig Patrick chose defenseman Brooks Orpik with the 18th overall pick at the 2000 NHL Entry Draft.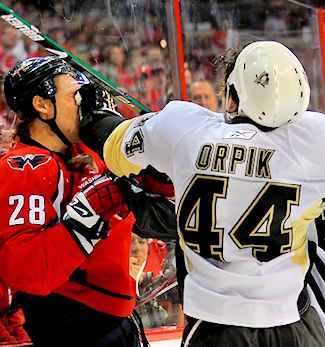 Having been fed a steady diet of Robert Domes, Milan Krafts, and Konstantin Koltsovs the selection of Orpik signaled an abrupt change in the Pens' drafting philosophy.
"In the past, we haven't emphasized the toughness as much," head scout Greg Malone said. "Going into this draft, we wanted to work on the size and grit."
They got it—in spades. In stark contrast to his high-flying predecessors, Orpik kept the game brutally simple. The embodiment of announcer Mike Lange's bulldozer in a construction yard, the Boston College grad was a bowling ball on skates. The opposition were his ten pins.
"A rugged defenseman who plays the game with a snarl and uses his 6-3, 230-pound frame to punish opponents," wrote Dejan Kovacevic.
"A hard, hard hitter," Patrick marveled.
Boy, was he ever. Following a two-year apprenticeship at Wilkes-Barre/Scranton, Orpik earned a spot with the Penguins in 2003-04. He immediately established himself with his bone-jarring checks.
Not coincidentally, the Penguins began to morph from the soft, almost comical losers of the early 2000s into a hungry young team that played with an edge. At its physical core was Orpik.
Never was his wide-eyed intensity more on display than in Game 3 of the 2008 Stanley Cup Finals. Midway through the third period he dished out four crunching hits during a single even-strength shift. His Herculean effort helped to seal a 3-2 Pens victory.
"That shift was amazing," an inspired Max Talbot said. "You just want to go out there and do the same thing."
The following year Orpik leveled ex-teammate Marian Hossa early in Game 1 of a Finals rematch with a huge hit at center ice. Hossa failed to score; the Pens captured the Cup.
Direct as the checks he threw, the San Francisco native emerged as a locker-room leader as well. When the Pens dropped six games in a row during the 2011-12 season, Orpik called his teammates out.
"We give up a couple of goals, and everybody's attitude stinks," he fumed. The Pens went 30-8-2 the rest of the way.
It was only fitting that on his final play as a Penguin, No. 44 was attempting to ram the Rangers Mats Zuccarello into the sideboards when his right knee buckled. A warrior to the end.
In another time Orpik surely would've finished his career in the 'Burgh. However, the 33-year-old bruiser joined forces with archenemy Alexander Ovechkin and the Capitals on July 1. Such is the way of things in the salary-cap era.
There's always hope Brooks won't target Pens superstars Sidney Crosby and Evgeni Malkin for abuse.
Don't hold your breath.
*Be sure to check out Rick Buker's books,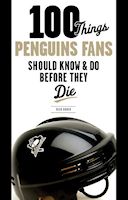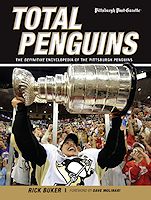 available at TriumphBooks.com, Amazon.com, and BarnesandNoble.com