Back in the day, Ivory Soap boasted that it was so pure it wouldn't leave a bathtub ring. As presently constructed the Penguins' defense could make a similar claim. It won't leave a mark.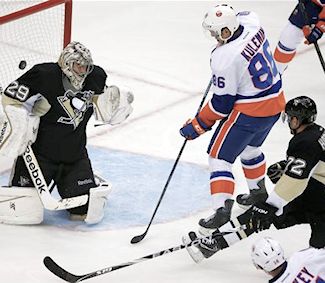 Losing rugged Robert Bortuzzo to injury certainly hasn't helped. In his absence GM Jim Rutherford assembled a defense that's built for the Autobahn, not NHL gridlock.
It reminds me of the 1990-91 squad. For a 35-game stretch the black-and-gold defense featured gifted puck movers Paul Coffey, Larry Murphy, and Zarley Zalapski.
The high-octane blend failed.
"We were in Calgary and there was a replay of a play around the net and the camera was from above and every Calgary Flames player was around our goal cage," said Paul Steigerwald. "We had no presence in front of our net whatsoever."
Sound familiar? It should. He could be describing our present-day defense.
A lack of physicality on the blue line is only part of the Pens' problem. A flawed philosophy is another.
"We can't play on our heels," coach Mike Johnston lamented following Thursday's frustrating come-from-in-front overtime loss to Detroit. "We have to play on our toes."
Sounds suspiciously like ex-coach Dan Bylsma's assertion that the Pens wanted to play in the other team's zone 70 percent of the time.
Understandable for sure. After all, you don't score goals from your own end. Still, you must be prepared for the eventuality that opponents will force you to play defense. Sometimes for extended periods.
It comes as no surprise that the offensive-minded Pens have had difficulty protecting a lead. More often than not, when foes turn up the heat they melt like hot butter. Too much stick-checking. Too much east-west play. Way too many turnovers.
A more balanced approach in terms of philosophy and personnel might help. While predominantly a puck-possession team, the '08-09 Pens won the Cup because they could play any style. Yes, they were blessed with a supremely skilled core. But they also had guys like Matt Cooke, Hal Gill, Bill Guerin, Tyler Kennedy, Brooks Orpik, and Max Talbot. Nitty-gritty types who thrived in the trenches.
Rutherford is approaching the right mix up front. Newcomers Blake Comeau and Steve Downie joined holdover Zach Sill to add some aggression and fire. Ex-Predators Patric Hornqvist and Nick Spaling have shown plenty of hop.
The defense has a long way to go.
*Be sure to check out Rick Buker's books,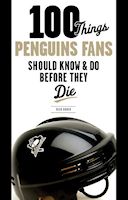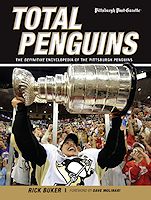 available at TriumphBooks.com, Amazon.com, and BarnesandNoble.com