When Ray Shero acquired Jussi Jokinen from Carolina at last season's trade deadline it barely caused a stir. After all, the Pens' GM had already amped our emotions to a fever pitch by trading for Jarome Iginla, Brenden Morrow, and Douglas Murray.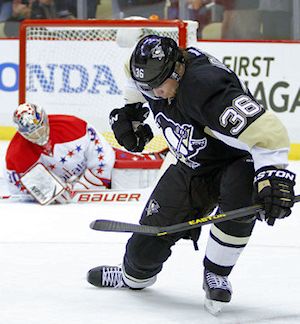 These days Iginla, Morrow, and Murray are skating for other teams. And Jokinen? Heading into tonight's contest with Ottawa he's totaled 23 goals and 51 points in 65 regular-season games since arriving in the Steel City. Darn fine production for a player who was swapped for the proverbial bag of used pucks (a conditional draft pick).
"Jussi has been pretty good for us," coach Dan Bylsma said. "One thing he's brought to our team is just the intelligence in the way he plays the game, how smart he is on the ice, his hockey sense."
Indeed, when I think of Jokinen the words crafty, economical, and versatile come to mind. His stick is always on the ice and he's always in position to make a play.
In many ways he reminds me of a poor man's Ron Francis. Like the former Pens great, Jussi doesn't possess blazing speed. However, he displays the same Johnny-on-the-spot instincts that earned Francis a place in the Hall of Fame.
Or, as play-by-play announcer Paul Steigerwald puts it, "He disappears and then reappears in exactly the right spot."
"It's always been one of my strengths, that I can get open in those soft areas," Jokinen said.
Following a quick start to the season, No. 36 endured an extended cold spell through November and December. Taking a hard look at his game, the Finnish native realized he was passing the puck too much. An understandable tendency when skating on a line with mega-snipers Evgeni Malkin and James Neal.
Resolving to shoot more, he's been one of the hottest Penguins since the New Year. The 5'11" 198-pounder's tallied seven goals and 14 points over the past 13 games, including two-goal efforts versus the Rangers and Montreal.
"I'm playing with lots of confidence right now," Jokinen told Addison Smith in a recent interview. "If you have a line like that and everybody knows their roles, then everybody can make plays and shoot the puck. I'm probably feeling my best in a long time."
Good news for the Penguins, who'll need steady production from "Juicy" and his linemates if they hope to make a run at the Stanley Cup this spring.
*Be sure to check out Rick Buker's books,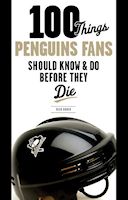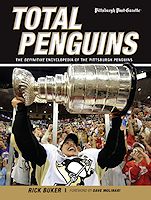 available at TriumphBooks.com, Amazon.com, and BarnesandNoble.com