As I watched the Penguins take one on the chin last night at the hands of the Dallas Stars, I couldn't help but note that for the second time in the past four games the black and gold got lit up by a younger, faster, hungrier team.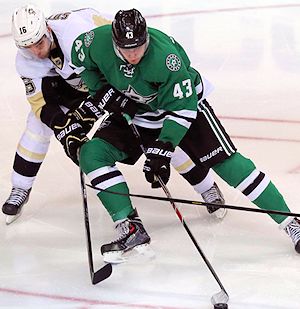 It made me wistful for the time when injuries forced the Penguins to dress some of their kids. Remember how it felt back in mid-December when the "Wilkes-Barre Seven" were playing? Their fire and enthusiasm was infectious. It seemed like we had a brand-new team.
And now? The Pens remind me of a bunch of businessmen in suits taking the T to work.
It's not the players' fault. Like anything in life, if you do something long enough, you're bound to lose some enthusiasm along the way. It's up to GM Ray Shero and coach Dan Bylsma to develop younger players and integrate them into the lineup to keep the mix fresh. On that count they've failed miserably.
Bylsma's affinity for veterans is a major stumbling block. Craig Adams is a prime example. Great team guy, terrific penalty killer, gives you everything he's got. The downside is, he produces next to nothing. Since a rare scoring spree to open the season, Craig's gone 48 games without a goal. He hasn't picked up so much as an assist since November 1. He's got the worst plus-minus on the team. Yet Bylsma pencils him into the lineup night after night.
It's an ideal spot for a younger player such as Harry Zolnierczyk or Zach Sill. "Dirty Harry" displayed an abundance of speed, energy and grit, along with a knack for drawing penalties during his all-too-brief cameos. He appears to have run afoul of Bylsma. Sill is comparable to Adams, but he's younger, tougher and more aggressive. What's not to like?
Same thing on defense. Twin towers Robert Bortuzzo and Simon Despres should be in the mix instead of watching from the press box or, worse yet, being exiled to the Baby Pens. If it means bumping aside a hallowed but battle-worn vet like Rob Scuderi, so be it.
Unfortunately, you'll never see the Penguins' brain trust make those types of moves. Instead, they'll stick with essentially the same cast that came up short the past few postseasons, and likely endure yet another early playoff exit. Meanwhile, the window for this talented but top-heavy team to win another Cup will keep on shrinking, and shrinking, and shrinking.
*Be sure to check out Rick Buker's books,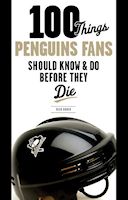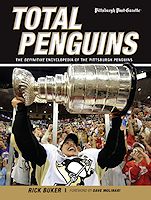 available at TriumphBooks.com, Amazon.com, and BarnesandNoble.com