Noted philosopher and poet George Santayana once wrote, "Those who cannot remember the past are condemned to repeat it."
There's another famous quote, one uttered by hockey legend Conn Smythe. "If you can't beat 'em in the alley, you can't beat 'em on the ice."
Don't count the black and gold among the teams that subscribe to Smythe's time-honored mantra. For most of their 47 years the Penguins have accented talent over toughness; style over substance. It's hard to argue with a philosophy that's produced 15 Art Ross Trophies over the past 26 seasons, not to mention three Stanley Cups. However, skill alone—no matter how supreme—doesn't win championships.
It takes all types of players to build a Cup-winning team, with all sorts of attributes. Certainly speed, skill and creativity top the list. But size, grit, and toughness are important qualities, too.
Look no further than the Pens' own storied history for examples. In 1991 the arrival of unsweetened Swede Ulf Samuelsson helped pave the way to a Cup. Ditto the acquisition of truculent Rick Tocchet the following spring. More recently, feisty role players such as Matt Cooke and Max Talbot rocked the old Mellon Arena while providing the '09 Cup team with an invaluable underpinning of grit.
The opposite also holds true. After icing one of the NHL's tougher clubs in the late 1960s, management defanged the team. By 1973-74 an ultra-timid version of the flightless waterfowl were floundering near the cellar until the arrival of tough guys Steve Durbano, Battleship Kelly, and Bob Paradise signaled a dramatic turnaround.
What's my point? Despite a mandate by owners Mario Lemieux and Ron Burkle to add character and grit, the current crop of Penguins are a less-than-imposing bunch. Especially with rugged defenseman Robert Bortuzzo shelved for (at least) a month due to an injury.
It's hard to fault GM Jim Rutherford. Considering the cap constraints and free-agent stew he inherited from Ray Shero, JR's done an admirable job since taking over. Still, the black and gold seems irretrievably locked on a course where finesse rules.
There are few exceptions. Newcomer Steve Downie has a well-documented appetite for physical play. He's only 5'11" and 191 pounds. Zach Sill is tough as nails. There's no guarantee he'll make the team. Abrasive Bobby Farnham and brawny Adam Payerl have departed for Wilkes-Barre/Scranton.
So what's going to happen when push comes to shove? Hopefully the new-look Penguins can take the heat.
*Be sure to check out Rick Buker's books,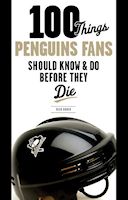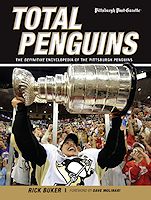 available at TriumphBooks.com, Amazon.com, and BarnesandNoble.com