I was searching for a word that best described the Penguins' pathetic showing during Sunday night's abysmal 3-1 loss to the Rangers in Game 6 of the Eastern Conference Semifinals.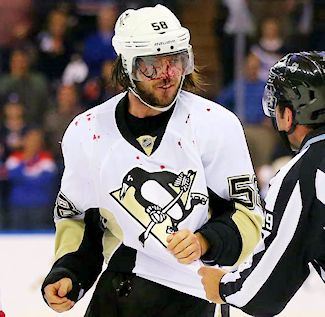 Soft immediately came to mind.
With a chance to wrap-up their second-round series and atone for a wretched showing in Game 5, the Penguins turned in one of the most passionless performances I've ever had the displeasure of watching. It's as if the team—having perfected the art of blowing 3-1 leads during individual games in round one—purposed to take things a step further by seeing if they could blow a 3-1 series lead.
Rarely have I been more embarrassed to be a Penguins fan. With the exception of Marc-Andre Fleury, Brian Gibbons, Chris Kunitz, and Brandon Sutter, no one showed up. The rest of the team should be ashamed. Indeed, until Kunitz scuffled with Dominic Moore at the end of the second period, the locals barely displayed a pulse. I can't ever recall witnessing a more timid effort in a big game. That's saying a lot considering some of the creampuff squads the Penguins have iced over the years.
The Rangers figured out the secret to beating our boys. In a word—compete. Challenge them, get in their faces even a little, and the Pens will scurry to the nearest official and implore them to call a penalty.
Nowhere was the difference between the two teams more evident than on Derick Brassard's second-period goal that gave New York a 3-1 lead. Brassard literally ran over Sutter and Paul Martin to flip a loose puck past Fleury. Contrast that with the black and gold playing tic-tac-toe around the perimeter on four failed power-play opportunities.
If I were GM Ray Shero, I'd phone ex-Pen Gary Roberts and see if he'd be available to suit up for Game 7. Even at 47 years of age, he'd provide more heart and toughness than the rest of the club combined.
To think I believed this team—and I use the term loosely—had a shot at the Cup. Fat chance. Even if by some miracle the Pens manage to win Game 7, it won't matter. They'll get outworked and outhustled by the Canadiens, or cut to pieces by the infinitely tougher, more competitive Bruins.
*Be sure to check out Rick Buker's books,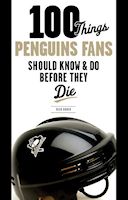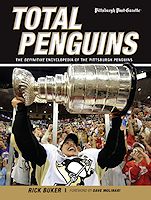 available at TriumphBooks.com, Amazon.com, and BarnesandNoble.com