While watching the Penguins fall to the Rangers in Game 7 of the Eastern Conference Semifinals on Tuesday night my friend and boss, Dave Wright, turned to me and said, "The Pens are missing something, aren't they?"
Truer words were never spoken.
It wasn't that our boys didn't give their all. Unlike Games 5 and 6, when the Pens' battle level was tepid at best, they poured everything they had into a pulsating 36-shot effort. In the end, like a college student who crammed for a final exam at the last minute, it was a case of too little, too late.
Or to quote Tom Barrasso after the Pens were stunned by the Islanders in a Game 7 back in 1993, "We put ourselves in a position where anything could happen and the worst did."
Give the Rangers credit. Down 3-games-to-1, they dragged themselves off the canvas and found a way. And in Game 7 they were at their opportunistic best. Matt Niskanen's turnover in the neutral zone just minutes into the game led to Brian Boyle's goal off a jail-break rush. With Niskanen serving a tripping penalty early in the second period, Brad Richards beat Marc-Andre Fleury on the power play for what proved to be the series-winner.
In between, Jussi Jokinen rifled a loose puck past Henrik Lundqvist to ever-so-briefly pull the Pens even. It was all the offense the black and gold could muster against "King Henrik," who withstood a furious third-period barrage to preserve a 2-1 Rangers victory and add to his reputation as a big-game performer.
And now? While New York moves on to play the winner of the Boston-Montreal series in the conference finals, the Penguins face an offseason rife with uncertainty.
You've got to feel for coach Dan Bylsma and GM Ray Shero. In the wake of a fifth-straight playoff exit at the hands of a lower seed, they're sitting squarely atop the hot seat. Decisions must be made regarding a number of key free-agents-to-be, including Jokinen, Niskanen and long-time stalwart Brooks Orpik. Is Fleury—very good but not great against the Rangers—our goalie of the future? What about the lack of size and toughness that contributed to the team's demise?
One thing is certain. Change is in the wind.
*Be sure to check out Rick Buker's books,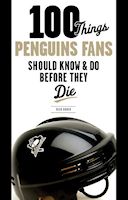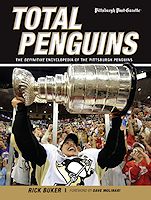 available at TriumphBooks.com, Amazon.com, and BarnesandNoble.com