Ray Shero who has looked like a trading genius at times, a Stanley Cup winner and 2013 GM of the year was done in by his abysmal job with the draft, player development and the inability to secure 'A' list rental players to contracts.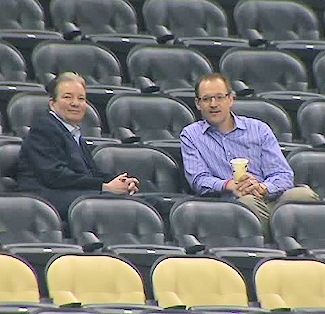 In Ray Shero's 8 years of drafting players only 3 have played over a hundred games in the NHL.  One of the 3 the Penguins Shero didn't sign and he went on to sign and is playing for the Kings.  The only team with a worse drafting record over that period of time is the Vancouver Canucks who had two.   The league average is 6.36 players.
I have no doubt that Ray Shero will land on his feet.
Dan Bylsma who was also rumored along with Ray Shero to be fired this morning will be evaluated by the new GM.  Dan Bylsma has won a Stanley Cup, Coach of the year, is the fastest coach to 250 wins in the NHL and finished in first place with 500 some man games last season. His abysmal performance in the post season the last two years has put him also on the hot seat.
This move of firing Shero and keeping Bylsma makes perfect business sense.  The Penguins have Bylsma under contract and will pay him either way.  He is an option for the new GM, they can keep him if they feel he is the best option or remove him if they find a better one, all without losing a nickel.   Bylsma may opt to remove himself from his contract and take on another job in the mean time saving the team millions.
My personal opinion is let the new GM bring in some tough guys and see what Bylsma does, he does have a damn impressive resume.