During each of the past three seasons the Pittsburgh Penguins rocketed through March and April, only to pull an el foldo in the playoffs. This year Dan Bylsma's crew seems to be trying a totally different approach—play as poorly as possible in the stretch run and hope to heat up in the postseason.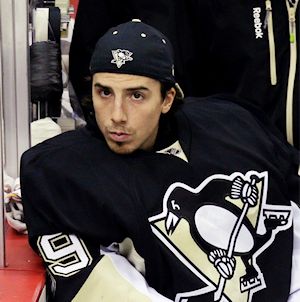 With a 5-4-2 record since the Olympic break, the Penguins clearly have accomplished the first part of their mission.
To be fair, injuries to key personnel have taken a heavy toll. You don't lose players like Kris Letang and Paul Martin—not to mention Pascal Dupuis and Tomas Vokoun—for extended periods and not feel the effects. However, even with those guys in the lineup the Penguins are a deeply flawed team.
The disastrous 5-4 loss to Detroit on Thursday night was a microcosm of what ails the Pens. Handed a five-minute power play at the end of regulation, they repeatedly passed the puck through the slot to teammates positioned along the wall or outside the prime scoring areas, trying to set up pretty goals.
Pretty might fill the CONSOL Energy Center seats. It won't win a Stanley Cup.
Chris Kunitz is the only black-and-gold forward who acts like he won't get whistled for a lane violation if he pays more than a passing visit to the paint. When was the last time a Penguin took the puck and bulled his way down the slot? Not since announcer Mike Lange's proverbial eighth-grade picnic. Or more to the point, since Jordan Staal got traded.
Nor do the Pens show any real interest in managing the puck or protecting Marc-Andre Fleury, who's posted a sorry 3.35 GAA and .894 save percentage since the Olympic break. It's fire wagon (or fire drill) hockey all of the time, no matter what the situation. How else do you explain giving up a goal with 0.4 seconds to play in overtime on a 3-on-1 break?
Unforgiveable.
Mike Milbury was right when he referred to the Penguins as offensive "crack addicts." So was Rob Scuderi. This team doesn't know how to play anything but Harlem Globetrotter hockey. They should change their theme song to Sweet Georgia Brown.
There's always a chance the Pens will fix their myriad of problems in time for a postseason run. But I doubt it.
*Be sure to check out Rick Buker's books,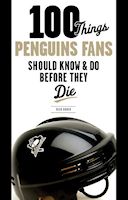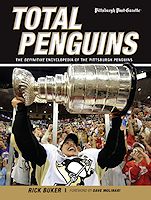 available at TriumphBooks.com, Amazon.com, and BarnesandNoble.com