As the Pittsburgh Penguins prepare to open the 49th season of their rich and storied history on Thursday night in Dallas, there's a palpable sense of anticipation in the air.
Just ask team captain Sidney Crosby. "You get excited when you see some of the players we've added," Sid said.
If the Penguins feel like a brand-new team, well, it's because they are. Including sniper Phil Kessel (25 goals with Toronto), the opening-night roster will feature as many as seven new skaters. Gone are black-and-gold mainstays Craig Adams, Paul Martin and Brandon Sutter, along with most of the guys GM Jim Rutherford imported last year.
The fresh faces have fans buzzing about the team's chances. Even in the wake of a shaky 3-5 exhibition slate.
So what can we truly expect? Is the perceived improvement real, or a well-conceived case of smoke and mirrors? Will the Pens be Cup contenders or pretenders?
FORWARDS
Rutherford's assembled the deepest, most skilled group of forwards since the Cup champs of '09. In particular, the Crosby-Kessel combo promises to super-charge an attack that flat-lined down the stretch last season. Left wing Chris Kunitz, who mirrored the club's offensive woes (18th in the NHL in goals) after suffering a broken foot in December, will get a shot at redemption skating alongside the dynamic duo.
The trickle-down should have a positive impact on Evgeni Malkin. "Geno" will start the season with crease-crashing Patric Hornqvist (25 goals) on his wing. They'll be joined—for now—by rookie Sergei Plotnikov. The big-bodied Russian seems a step slow, but impressed with his boldness in traffic.
Hustling Nick Bonino (15 goals with Vancouver) centers the revamped third line. The shot-blocking forward is flanked on the right side by Beau Bennett, who enters a make-or-break campaign on a mini-roll thanks in part to improved conditioning. Pricey David Perron, projected as the odd-man out until popular Pascal Dupuis went down a lower-body injury, likely will occupy the port side.
Greybeard Matt Cullen anchors the fourth line—at least until free-agent Eric Fehr returns from off-season elbow surgery. If he's unable to keep pace, look for prospect Oskar Sundqvist to move up from Wilkes-Barre.
Super-pest Bobby Farnham provides energy and much-needed mustard. Second-round pick Daniel Sprong, dazzling during the preseason thanks to his NHL-ready skills, earned an extended look.
DEFENSE
The Achilles heel. Tailored for coach Mike Johnston's puck-possession game, the defense is neither rugged nor deep. It doesn't help that top prospect Derrick Pouliot bombed during the preseason (minus-7), prompting a surprise demotion to Wilkes-Barre. Or that black-and-gold legend Sergei Gonchar flopped on a PTO, thinning the ranks even more.
Not that the Pens lack blue-line talent. Concussion worries aside, mega-skilled Kris Letang (54 points in '14-15) is entering his prime. Finnish whiz Olli Maatta oozes all-star potential. Number-three defenseman Ian Cole plays a solid all-around game. Although undersized, mobile newcomer Adam Clendening could thrive in Johnston's up-tempo system.
The rest of the bunch is iffy. Rangy Brian Dumoulin performed ably in the playoffs last spring following a solid season (plus-25) with the Baby Pens. Is he ready for full-time duty? Will veterans Ben Lovejoy and Rob Scuderi quiet their growing legion of detractors? Can journeyman Tim Erixon, a washout with four NHL teams, provide necessary depth?
How concerned is the Pens' brass? Plenty. Enough, according to several sources, to approach Winnipeg about Dustin Byfuglien, the bruising, wide-body defender whose booming shot is matched by his super-sized cap hit ($5.2M).
GOALTENDING
Fresh off his finest season (a league-best 10 shutouts), team MVP Marc-Andre Fleury once again will shoulder the load between the pipes. Jeff Zatkoff, who did a creditable job as No. 2 man in 2013-14, returns as backup following a one-year absence. Phenom Matt Murray, the AHL's top goalie last year (1.58 GAA), is waiting in the wings should Zatkoff falter.
Given the team's obvious offensive bent and lack of backline muscle, Flower and Co. may have their work cut out for them. Still, goaltending should be a strength.
COACHING
Rookie coach Mike Johnston looked like a genius through the early going last season, when the club was firing on all cylinders. Then a rash of injuries, a punchless power play, and late-season salary cap woes reduced the Pens to a sputtering wreck.
Through the adversity, Johnston continued to teach, reinforcing the positives while pointing out areas that needed improvement. Despite an early playoff exit he quickly received absolution from David Morehouse.
"I don't know if any team in the league would win without three of its top four defensemen," the Pens CEO said.
That was then. This is now. With the bar set even higher—perhaps unreasonably so—Johnston and assistants Rick Tocchet and Gary Agnew figure to be on a much shorter leash should things go awry.
Venerable Jacques Martin rejoins the staff as an "eye in the sky." He'll provide analysis from the press box.
OUTLOOK
Based on its bipolar exhibition play—not to mention the wholesale changes—it's tough to get a read on this team. Will the Pens resemble the dynamo that throttled Carolina's B-team? Or do they favor the hapless squad that got torched (twice) by Detroit?
Maybe neither. Maybe both.
Will the Penguins be able to play with and protect a lead? How will they stack up against physical foes like Columbus and Washington?
The bottom line: if the superstars stay healthy and the defensive corps jells, a Metro Division title isn't out of the question. However, if the injury bug bites…especially core defenders Letang and Maatta…look out below.
Either way, the Pens will be infinitely more fun and entertaining. Enjoy the ride!
*Be sure to check out Rick Buker's books,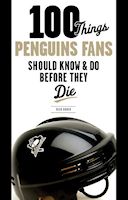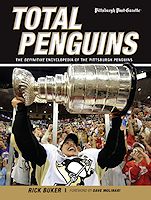 available at TriumphBooks.com, Amazon.com, and BarnesandNoble.com