It was a pretty goal. Especially by recent black-and-gold standards. Beau Bennett cruised into the slot, gathered up a loose puck, and slipped it through the goalie's five-hole.
Problem is, it was Marc-Andre Fleury's five-hole.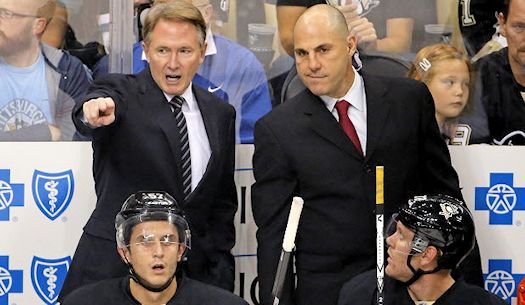 Bennett's wrong-way play seems to epitomize the plight of the Penguins, who've lost four straight. A team built to score goals suddenly can't buy one. Especially on the once vaunted power-play.
Injuries to Evgeni Malkin and Patric Hornqvist—arguably the team's most dynamic players—haven't helped. Nor has Sidney Crosby's mysterious inability to carry the team—even for short durations.
The controversial deadline deals designed to shore up the defense have backfired. The Ian Cole-Rob Scuderi tandem, which abandoned Fleury on the second Dallas goal Thursday night, seems particularly vulnerable. A minus in five of his past six games, Scuderi's reverted to last season's subpar form. So much for the notion he carried ex-partner Simon Despres. Newcomer Cole's been caught flat-footed with alarming regularity.
If only the maladies stopped there. Chris Kunitz has lost his scoring touch. The fourth line's a black hole. Kris Letang's been repeatedly provoked to his boiling point. To top it off, the Pens appear to be mentally (and physically) fragile.
Are they primed for an epic collapse?
It wouldn't be the first time the Penguins tanked at crunch time. The 1985-86 club entered March a shoo-in to make the playoffs. They won three of their final 16 games. The following season the Pens started 7-0…and went 23-38-12 the rest of the way. The 2001-02 squad was 0-9-1 down the stretch. The next season…2-17-2.
Judging by Rick Tocchet's perpetually grim expression, the Penguins' brain trust is deeply concerned. Enough, reports the Tribune Review's Jason Mackey, to consider sweeping changes. Fourth-line fixture Craig Adams is rumored to be on the outs. Ditto the underachieving Bennett. Replacement candidates include European forwards Kasperi Kapanen and Oskar Sundqvist, and Baby Pens Jayson Megna, Bryan Rust, and Scott Wilson.
Something sure needs to change. During the first period of the Stars game, the Pens were flatter than pita bread.
Maybe some new blood will help.
*Be sure to check out Rick Buker's books,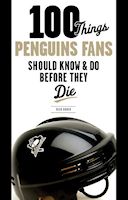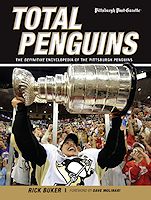 available at TriumphBooks.com, Amazon.com, and BarnesandNoble.com