The Wilkes-Barre/Scranton Penguins finished the 2014-15 AHL regular season with a record of 45-24-7 under coach John Hynes, good for 97 points and second place in the East Division.
Rookie goalie Matt Murray led the league with 12 shutouts, a microscopic 1.58 goals-against average, and a sparkling .941 save percentage. Fellow rookie Conor Sheary topped the Baby Pens with 45 points (20+25), while Jayson Megna paced the attack with 26 goals.
Taylor Chorney (plus-26) and defense partner Brian Dumoulin (plus-25) placed sixth and seventh in the AHL in plus/minus. Dumoulin led all Baby Pens defensemen with 33 points.
Heavyweight Pierre-Luc Letourneau-Leblond was third in the league in penalty minutes (241); Bobby Farnham fourth (226).
SCORING
Player
Age
Pos
GP
G
A
PTS
PIM
+/-
Conor Sheary
22
LW
58
20
25
45
8
0
Andrew Ebbett
31
C
44
17
27
44
12
19
Tom Kostopoulos
35
RW
72
16
28
44
62
3
Scott Wilson
22
LW
55
19
22
41
30
14
Jayson Megna
24
C
63
26
13
39
40
18
Brian Dumoulin
22
D
62
4
29
33
18
25
Carter Rowney
24
RW
63
10
21
31
31
14
Tom Kuhnhackl
22
RW
72
12
18
30
19
10
Bryan Rust
22
RW
45
13
14
27
14
6
Dominik Uher
21
C
72
13
13
26
60
11
Derrick Pouliot
20
D
31
7
17
24
20
2
Jean-Sebastien Dea
20
C
43
10
11
21
16
1
Nick Drazenovic
27
C
25
8
11
19
18
6
Taylor Chorney
27
D
62
4
15
19
42
26
Bobby Farnham
25
LW
62
7
7
14
226
3
Matia Marcantuoni
20
C
59
4
10
14
20
4
Josh Archibald
21
RW
45
5
8
13
24
-1
Scott Harrington
21
D
48
2
10
12
20
19
Nicholas D'Agostino
24
D
50
0
10
10
10
8
Bobby Goers
28
D
51
2
7
9
25
3
Adam Payerl
23
C
41
2
7
9
76
1
Reid McNeill
22
D
54
2
5
7
121
6
Pierre-Luc Letourneau-Leblond
29
RW
55
2
4
6
241
1
Alex Boak
24
D
31
1
5
6
80
5
Danny Syvret
29
D
17
2
3
5
8
-5
Beau Bennett
22
RW
2
0
5
5
0
4
Philip Samuelsson
23
D
22
0
4
4
20
-3
Sean Escobedo
24
D
2
1
2
3
4
2
Sahir Gill
22
LW
12
1
2
3
0
1
Kasperi Kapanen
18
RW
4
1
1
2
0
-1
Zack Torquato
25
C
12
1
1
2
15
1
Eric Hartzell
25
G
2
0
1
1
0
Clark Seymour
21
D
12
0
1
1
13
-1
Steve Shamanski
25
D
4
0
1
1
2
1
Jeff Zatkoff
27
G
37
0
1
1
4
Paul Cianfrini
25
D
3
0
0
0
0
-3
Patrick McGrath
21
RW
2
0
0
0
12
-2
Matt Murray
20
G
40
0
0
0
2
Harrison Ruopp
21
D
7
0
0
0
9
0
Anton Zlobin
21
LW
6
0
0
0
0
-3
GOALTENDING
Player
Age
Pos
GP
MIN
GA
SH
AVE
WLOT
Matt Murray
20
G
40
2321
61
12
1.58
25-10-1
Jeff Zatkoff
27
G
37
2155
88
3
2.45
18-14-3
Eric Hartzell
25
G
2
123
6
0
2.92
2-0-0
*Be sure to check out Rick Buker's books,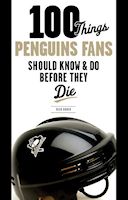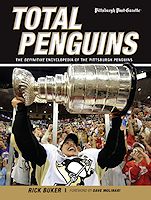 available at TriumphBooks.com, Amazon.com, and BarnesandNoble.com