Here's a quick glance at how former Penguins are faring around the NHL. Stats include games played through Saturday, March 7, 2015.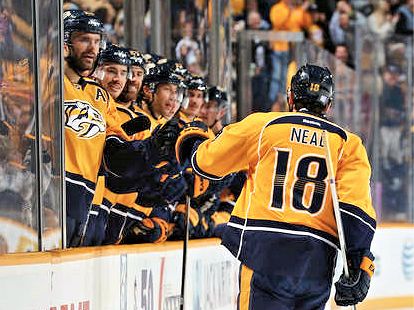 Marian Hossa tops the ex-Pens in scoring with 48 points, while Jarome Iginla and James Neal lead the expatriate pack with 21 goals apiece.
A number of former Pens changed teams at the trade deadline, including all-time great Jaromir Jagr, Tyler Kennedy, Jordan Leopold, Zbynek Michalek, Lee Stempniak, and Max Talbot.
SCORING
Player
Team
Pos
GP
G
A
PTS
PIM
+/-
Marian Hossa
CHI
RW
65
18
30
48
28
10
Jarome Iginla
COL
RW
65
21
23
44
36
2
James Neal
NSH
LW
61
21
13
34
51
13
Jussi Jokinen
FLA
LW
65
6
30
36
32
-1
Jaromir Jagr
NJD-FLA
RW
61
12
20
32
42
-9
* Jake Muzzin
LAK
D
59
6
25
31
18
-5
* Matt Moulson
BUF
LW
63
9
21
30
2
-15
Alex Goligoski
DAL
D
66
3
25
28
18
2
Mark Arcobello
EDM-NSH-PIT-ARI
RW
61
13
8
21
18
-8
Matt Niskanen
WSH
D
67
3
18
21
45
8
Lee Stempniak
NYR-WPG
RW
55
9
10
19
20
7
Dominic Moore
NYR
C
63
6
13
19
20
6
Simon Despres
PIT-ANA
D
62
2
16
18
66
11
Max Talbot
COL-BOS
C
65
5
11
16
29
1
Jordan Staal
CAR
C
27
4
12
16
12
-5
Brooks Orpik
WSH
D
67
0
15
15
56
2
Nate Guenin
COL
D
59
2
11
13
24
5
Sergei Gonchar
DAL-MTL
D
42
1
11
12
16
9
Chris Thorburn
WPG
RW
65
6
5
11
70
-3
Andrew Ference
EDM
D
62
2
9
11
39
-15
Michal Rozsival
CHI
D
51
1
9
10
18
6
Mark Letestu
CBJ
C
37
6
3
9
0
-8
Tyler Kennedy
SJS-NYI
RW
25
4
5
9
8
1
* Daniel Carcillo
CHI
LW
37
4
4
8
49
3
Matt Cooke
MIN
LW
27
4
4
8
13
-2
Rob Klinkhammer
ARI-PIT-EDM
LW
53
4
4
8
17
-2
Zbynek Michalek
ARI-STL
D
53
2
6
8
12
-6
Marcel Goc
PIT-STL
C
61
2
6
8
6
-2
Colin McDonald
NYI
RW
17
2
6
8
0
-3
Joe Vitale
ARI
C
54
3
4
7
30
-10
Zach Boychuk
CAR
LW
31
3
3
6
4
0
Robert Bortuzzo
PIT-STL
D
40
2
4
6
70
-5
Brenden Morrow
TBL
LW
56
2
4
6
54
-2
Brian Strait
NYI
D
38
2
4
6
24
0
Brian Gibbons
CBJ
C
25
0
5
5
8
2
Trevor Smith
TOR
C
42
2
2
4
8
-6
Deryk Engelland
CGY
D
59
0
4
4
46
-14
Jordan Leopold
STL-CBJ-MIN
D
28
1
2
3
11
-8
Zach Sill
PIT-TOR
C
48
1
2
3
67
-4
Tanner Glass
NYR
LW
49
0
3
3
67
-13
* Joe Morrow
BOS
D
15
1
0
1
4
3
Ryan Malone
NYR
LW
6
0
0
0
4
-4
Philip Samuelsson
ARI
D
4
0
0
0
0
-3
Eric Tangradi
MTL
LW
7
0
0
0
17
-3
Harry Zolnierczyk
NYI
LW
2
0
0
0
0
-1
GOALTENDING
Player
Team
GP
MIN
GA
SH
AVE
W-L-OT
* Chad Johnson
NYI-BUF
19
1053
54
0
3.08
8-8-1
John Curry
MIN
2
72
5
0
4.17
0-0-1
* Draft pick who didn't appear in a regular season or postseason game for the Penguins
*Be sure to check out Rick Buker's books,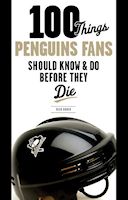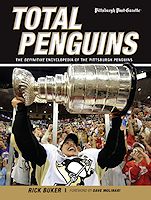 available at TriumphBooks.com, Amazon.com, and BarnesandNoble.com