Back in 1984 Wendy's fast-food restaurant struck advertising gold with the catchphrase, "Where's the beef?" The clever lament could apply to our recent Penguins squads, too.
According to James Mirtle of The Globe and Mail, the Pens (with an average weight of 199.6 pounds) were the 25th heaviest team in the NHL to start the 2014-15 season. That was before deadline deals stripped away the team's two biggest players—Robert Bortuzzo and Simon Despres.
By playoff time the Pens pronounced lack of muscle was evident. While the worn-down forwards struggled to score against the obstruction-happy Rangers, the undersized defense moved nary a soul from Marc-Andre Fleury's path.
Worse yet, aside from Baby Pens rearguard Reid McNeill and recently released Adam Payerl, there were no viable options for adding beef.
Jim Rutherford noticed. Since June 8, the Pens GM added several players who tip the scales at over 200 pounds. Bulky newcomers Tyler Biggs (6-3, 224), Adam Krause (6-3, 220), Ty Loney (6-4, 208), and Sergei Plotnikov (6-2, 205) join 2012 draftee Oskar Sundqvist (6-3, 209) in the Big and Tall forward department. Tim Erixon (6-3, 199) adds size to the backline. Hard-nosed defender Steve Oleksy—an under-the-radar pickup—plays larger than his 190 pounds.
Only Sundqvist and the intriguing Plotnikov are expected to compete for regular duty. Yet the muscle-building spree marks a dramatic departure from the Pens' recent paradigm, when mites such as Chris Conner, Andrew Ebbett, and Brian Gibbons dominated the depth chart.
Girth alone won't guarantee success. The undersized Blackhawks proved that by winning their third Cup in six years with an exquisite blend of speed, skill and creativity, to say nothing of the extraordinary leadership and mental toughness epitomized by their captain Jonathan Toews.
Still, attributes such as size and strength—and the inclination to use them—are key elements for any championship team. The Penguins are headed in the right direction.
*Be sure to check out Rick Buker's books,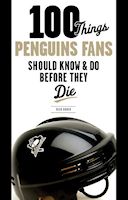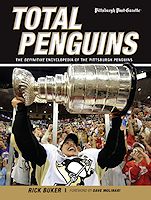 available at TriumphBooks.com, Amazon.com, and BarnesandNoble.com