"We want to be a team that's tough to play against."
Remember when former GM Ray Shero uttered those words? Shortly after he took over the reins from Craig Patrick in the summer of 2006? It seems like a lifetime ago.
Shero backed up his words by building a team that could physically compete. Guys like Matt Cooke, Ryan Malone, Brooks Orpik, Gary Roberts, Mike Rupp, and Jarkko Ruutu even extracted a pound of flesh now and then. They were a joy to watch.
Those days are long gone. Our present-day Pens more closely resemble the powder-puff squad of the mid-2000s. The one former coach Michel Therrien dismissed as "soff."
Opponents are well aware of our sudden vulnerability. They're only too eager to take advantage. Deny our undersized forwards the middle of the ice and lean on our paperweight defense. The Pens will fold like a cheap suit.
Just ask the Columbus Blue Jackets. Flexing their considerable muscle, they stormed back from a 2-0 deficit yesterday to bury the Pens, 5-3. It was the third time in six games the black and gold have blown a two-goal lead.
Few players have answered the bell. Sidney Crosby looks like "the Kid" of old, scoring key goals and hustling every shift. Patric Hornqvist battles for every inch of space. Daniel Winnik's been solid. Brandon Sutter's elevated his game.
They're squarely in the minority. Most of the team looks lost. Tired, fragile and, at times, disinterested. Indeed, coach Mike Johnston's pleas seem to fall on deaf ears.
Hardly a recipe for a long and glorious postseason run.
"It's embarrassing," Ben Lovejoy told Josh Yohe of the Tribune Review. "We aren't playing like a team that deserves to be in the playoffs."
"We haven't played well enough for the last few months, really," echoed veteran Craig Adams.
Whether the Pens make the playoffs or not is a moot point. Mario Lemieux and Jaromir Jagr in their primes couldn't lift this team to a Stanley Cup. Way too many passengers. Way too few leaders.
GM Jim Rutherford has his work cut out for him. If he still has a job.
*Be sure to check out Rick Buker's books,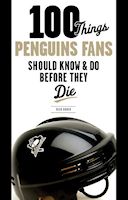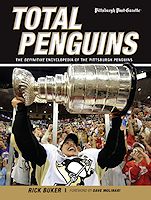 available at TriumphBooks.com, Amazon.com, and BarnesandNoble.com