I was hoping against hope our Penguins would win Game 5 of their first-round series against the Rangers. If not for themselves, then for goalie Marc-Andre Fleury.
No one deserved a victory more. The willowy native of La belle province made 34 saves in a courageous performance that lit up the Madison Square Garden ice.
Alas, it wasn't enough. At 10:52 of overtime the Rangers Carl Hagelin curled off the end-boards with a Malkin-esque move and beat Fleury high to the glove side to make it game, set, and match New York.
Rarely has "Flower" shone more brilliantly in victory as he did last night in defeat. He was superb. Razor-sharp. On his angles. Gobbling up rebounds. Making impossible saves look routine with that wonderful athleticism we've come to admire over the years.
Too bad his counterpart, Henrik Lundqvist, was better…at least on the stat sheet. Aside from Nick Spaling's line-plunge of a goal late in the second period "King Henrik" was airtight, stopping 37 of 38 shots.
Disappointing result aside, it was a terrific hockey game, with plenty of ebb and flow and playoff-style intensity. With the series on the line, Penguins coach Mike Johnston pulled out all stops. He moved slumping superstar Evgeni Malkin to left wing alongside Brandon Sutter. "Geno" responded with far and away his best effort of the series, firing off a game-high six shots, a total matched by Sutter.
Each team had its moments. Each had a chance to win in regulation. Six minutes into the third period Pens captain Sidney Crosby rifled a shot off the crossbar from the right faceoff dot. With 3:49 left in regulation New York's Dan Boyle shanked an attempt at a wide-open net.
Then came overtime and Hagelin's game-winner, which brought down the final curtain on what can best be described as a star-crossed season for the black and gold.
Once again, the Penguins face an off-season rife with uncertainty. Is venerable GM Jim Rutherford, who did mostly good work with some clunkers mixed in, the man to oversee the rebuild? What about Johnston? While tactically sound, is he able to inspire the troops?
Health-wise, how about Pascal Dupuis, Kris Letang, and Olli Maatta? Can they return?
Will the Pens re-sign any of their burgeoning stable of UFAs, which include Craig Adams, Blake Comeau, Steve Downie, Christian Ehrhoff, Paul Martin and Daniel Winnik? Do they give the kids a chance?
More important, can a top-heavy team like the Penguins thrive in the salary-cap era? Or is it time to break up the core?
It figures to be an interesting summer.
*Be sure to check out Rick Buker's books,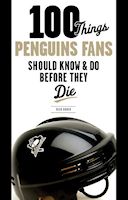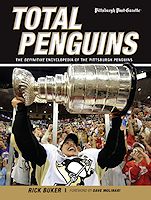 available at TriumphBooks.com, Amazon.com, and BarnesandNoble.com