Determined to even their series with the nettlesome New York Rangers, the Penguins played 60 minutes of passionate, playoff-style hockey last night at the CONSOL Energy Center. Actually, 63:14 to be exact.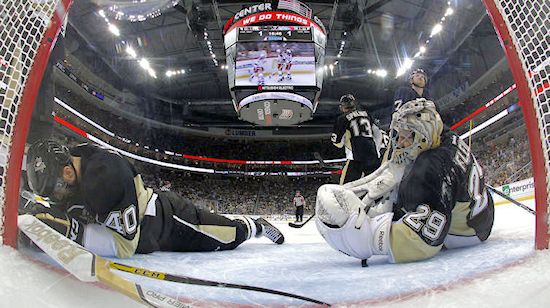 Unfortunately, their best wasn't good enough. Three-plus minutes into overtime Rangers rookie Kevin Hayes poked a loose puck past Marc-Andre Fleury from a goal-mouth scramble to hand New York a 2-1 victory in Game 4 and a 3-1 stranglehold on the first-round matchup.
The Pens deserved better. After struggling mightily for the past month, the black and gold finally melded into a unit. They hustled. They banged. They drove to the net. They stuck up for each other in scrums.
In short, they did everything a team could do to win. Unfortunately, New York was better.
Give the Rangers credit. They didn't earn the Presidents' Trophy by accident. They're a really good team. They don't get rattled; they don't waver from coach Alain Vigneault's well-conceived game plan. They just keep coming.
In many ways they're a reflection of goalie Henrik Lundqvist, who's morphed at age 33 into a virtual brick-wall between the pipes. "King Henrik" doesn't give you many chances. Neither do the Rangers.
One such rare occurrence took place in the waning seconds of regulation when Lundqvist inexplicably vacated his net. Veteran Dan Girardi coolly stepped in to sweep the puck from harm's way.
Back to our Penguins. Things don't look too rosy. Not with the series returning to New York for Game 5. Certainly not with Kris Letang on the shelf and Evgeni Malkin MIA—at least on the score sheet.
It's a shame, because there are positives. Sidney Crosby's line played with buzz-saw intensity. Has since the series-opening draw. Patric Hornqvist is doing exactly what he was acquired to do—score playoff-style goals. Fleury bares scant resemblance to the shaky underachiever of playoffs past. The tandem of erstwhile Baby Pens Brian Dumoulin and Taylor Chorney? Remarkably poised.
A final point. As an organization, the Pens need to take special note of the winning goal. Who scored it and—just as important—the circumstances surrounding it. The goal-getter—Kevin Hayes. Twenty-two years old. Power forward (6'3" 205). Able to camp near the net and fend off opposing defenders. Just as he did on the overtime winner.
Precisely the type of player the Pens need.
On the defensive side, four black-and-gold players set up a protective ring around Fleury. Not one took the body.
That doesn't happen on Stanley Cup champions.
*Be sure to check out Rick Buker's books,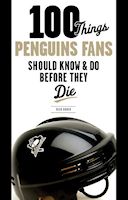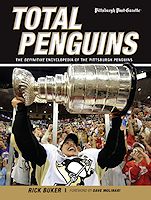 available at TriumphBooks.com, Amazon.com, and BarnesandNoble.com