Thanks to Saturday's 3-2 victory over Arizona, the Penguins' prospects are a little brighter. With the postseason just around the corner, the black and gold moved into second place in the Metropolitan Division. They hold a seemingly insurmountable seven-point cushion over Ottawa.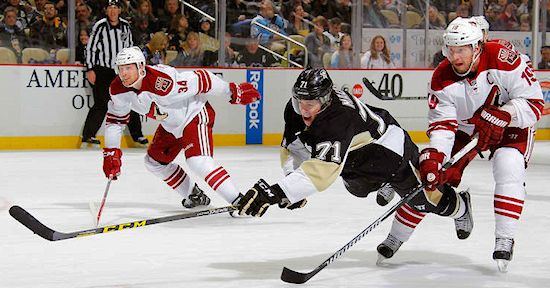 Don't be fooled. This team isn't a legit Cup contender…not by a long shot. Indeed, the Pens have enough holes to rival a Swiss cheese factory. Especially if Kris Letang's latest injury turns out to be serious. Here are some issues:
Eggs in One Basket
The Pens have gone all in for puck possession, coach Mike Johnston's favored style. However, they're so tailored to this approach they can't play any other way.
In the rare recent instances when the Penguins held a lead (versus Anaheim, Edmonton and St. Louis) they struggled to protect it. That's because they aren't capable of playing a shutdown game. They have to keep attacking…or else.
Bigger is Better
Seen the Penguins win many puck battles lately? It's a direct correlation to their collective lack of size. Too small to be consistently effective in the dirty areas, they appear to be wearing down at precisely the wrong time. Everybody seems aware of it…except the front office.
Surely Bill Guerin and Jason Botterill—both former power forwards—know the value of seasoning the mix with some muscle.
Alas, there's little beef in the pipeline. With the exception of pacifist Brian Dumoulin and fringe prospects Reid McNeill and Adam Payerl, none of the Baby Pens weigh more than 210 pounds. Which leads to…
A Bunch of Marcantuonis
The black and gold is addicted to small, speedy forwards. Indeed, the minor-league system is rife with them. Josh Archibald, Conor Sheary, and Matia Marcantuoni to name a few.
Trouble is, these guys rarely morph into bona fide NHLers. Remember Konstantin Koltsov? Jim McGeough? And more recently, Brian Gibbons? All could fly. All were undersized. They combined for 24 goals (in 267 games) at the big-league level.
Say Goodbye
It's tough to part with players who've been heart-and-soul contributors. Such is the case with Craig Adams and Rob Scuderi. Each is penciled into the lineup on a nightly basis. Both have seen better days.
Cinched in a salary-cap straight jacket, the Pens can't replace them. Nor would it be prudent to pull the battle-tested vets during the caldron of playoff competition. But next season? Give the kids a shot.
The Pens have nothing to lose.
*Be sure to check out Rick Buker's books,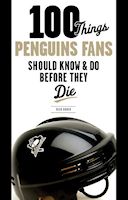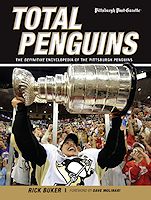 available at TriumphBooks.com, Amazon.com, and BarnesandNoble.com