I will be the first to admit that I was, almost to the last moment, against the Penguins trading for Phil Kessel. I am not going to be a hypocrite and act like I was an advocate all along because I wasn't.
My concerns, for the most part, were not about Kessel being out of shape, or a poor character in the locker room. I did not like the 8 million dollar cap hit and the high price that Toronto would demand in a trade.
I started to warm up to the idea earlier in the day on July 1st, oddly enough because of the approach that GM Jim Rutherford was taking. He was practicing patience. Almost from the moment GMJR took over the Penguins helm he seemed intent on making big splash deals. Ehrhoff, Downie, Perron, Winnick, *cough* Lovejoy. It all seemed too frantic, forced, and, dare I say, Shero-like at times.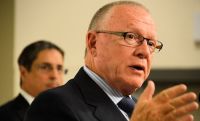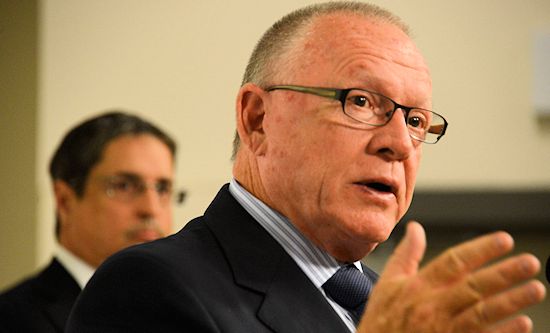 Going into the draft many worried that they would make a deal for the sake of making a deal. There was very little confidence that they would get it right, but after the draft concluded, following relentless trade rumors, people actually started to feel a little better about things.
Everyone assumed that Rutherford would deal at the Draft, but the deals weren't right. He knows with the current state of the team there is zero margin for error, and he was holding out for what was best, not the quickest.
The real test was during the surprise drama that was the Brandon Saad trade. If ever there was a player that the Penguins fan base pined for it was Saad, but he still didn't give up the farm for the golden boy from the Burgh. Despite the immense pressure, Rutherford handled the situation well. The calm, calculated approach was what this franchise has been needing for a long time.
But despite all of the patience, nobody could imagine that a deal involving Kessel could get done without Olli Maatta or Derrick Pouliot being involved, plus much more.
Then it happened. Sportsnet reported that the Penguins had acquired Kessel. No more information than that. Pittsburgh hockey fans collectively cheered (mostly), and then held their breath while they waited to see what Toronto was getting in return.
Who could believe it? Kapanen, Harrington, Spaling, and picks. WOW! And Toronto was taking some of Kessel's salary.
Full Kessel trade, per TSN: Kessel, RW Tyler Biggs, D Tim Erixon and No.2 pick in 2016 for Kapanen, Harrington, Spaling, 1st and 3rd picks

— Dave Molinari (@MolinariPG) July 1, 2015
Rutherford took them to the cleaners.
This is not to say that Rutherford is the greatest GM that ever lived, and his next five deals might be duds, but today he is the King of Consol.
Kessel is a true sniper and the most skilled winger for Crosby since Marian Hossa. Was his reputation in Toronto warranted? Yes and no, but as Rutherford said in his presser, he is getting a fresh start. Kessel will be training with former Penguin Gary Roberts this offseason, and that should help and show his commitment level.
This is now a deeper, more talented group of forwards than it was last year. Even after their early season tear, there was never a real comfort level with the roster. This is a true Cup contender now.
This article seems a little gushy, I know, but give kudos when they are due. I have personally, very recently described Penguins management as untrustworthy and irresponsible, but for today they earned their accolades. Rutherford played the part of the wise veteran GM that the Penguins thought they were getting.
Rutherford rattled the hockey world on July 1. No better evidence than that of the comments made by Hurricanes owner Peter Karmanos ripping Rutherford for trading first-round picks.
@emptynetters trading that pick you get a locked up sniper in his prime. Keeping it you get a mid-low round prospect that MAY turn out.

— Greg Thornberry (@Greg_Thornberry) July 2, 2015
I leave you with a question to answer via Twitter @Greg_Thornberry or in the comments section.
If you could trade the exact same assets, but get Saad instead of Kessel would you do it?