Take that, New York.
After playing the patsy in Game 1 of their opening-round matchup with the Rangers, the Penguins shoved back on Saturday night. Harkening back to their glory days, the Pens overcame adversity—not to mention atrocious officiating—to beat the Rangers at Madison Square Garden. The pulse-pounding 4-3 victory snapped the Pens' four-game postseason losing streak and evened the series at one game apiece.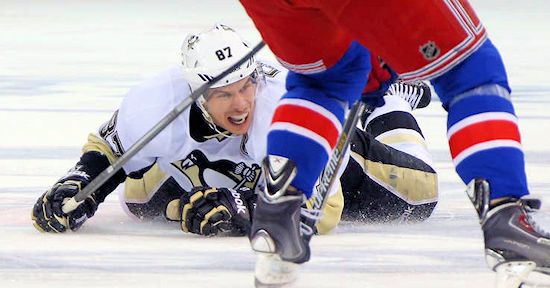 It was a night of heroics for the black and gold. Brandon Sutter cashed in. So did snake-bitten Chris Kunitz. Marc-Andre Fleury made 23 saves—none more critical than a sensational stab of a bouncing puck off the stick of slippery Martin St. Louis with six-and-a-half minutes to play. Emergency call-up Taylor Chorney was equal parts physical and efficient on defense, bringing to mind another Penguin who wore No. 44.
No one shone more brightly—or oozed more passion—than Sidney Crosby. At his big-game best, Sid notched two goals in a dynamic performance.
"We needed that from Sid," defensemen Ben Lovejoy said. "He's our best player. He wasn't satisfied with his effort or the team's effort in the first game. He threw us on his shoulders. It was a pleasure to watch."
Following the script from Game 1, the Pens leaked for the opening goal. Indeed, when Blueshirt Derek Stepan snapped the puck past Fleury at 17:05 of the opening frame, it looked like a case of déjà vu. But the Pens weathered the storm and evened the score midway through the second period on Sutter's power-play tally.
Then Sid took over. At 14:07 the Pens' captain scored on a nifty backhand from the doorstep to stake the locals to their first lead of the series. Just over four minutes later Crosby struck again—diving headlong to the ice to swat a Kunitz feed past Rangers goalie Henrik Lundqvist.
Penguin-killer Derrick Brassard beat Fleury with a slapper early in the final period to pull the Rangers within one. But Kunitz—who paced all skaters with three points—lasered a shot past Lundqvist at 9:41 with Kevin Hayes off for hooking to restore the Pens' two-goal edge.
New York promptly amped up the venom. Carl Hagelin brazenly flattened Crosby away from the play, a cheap shot that resembled the chilling blindside collision with David Steckel in the 2011 Winter Classic. Although the hit appeared intentional, no penalty was issued.
Clearly dazed, No. 87 lay on the ice for a long, horrifying moment before heading to the Pens' bench. After gathering his senses, Sid returned to action with no ill effects.
"We wanted to make sure we went home with one," Crosby explained afterward. "We have to try and build on that momentum at home."
Suddenly, the series has gotten a lot more interesting.
*Be sure to check out Rick Buker's books,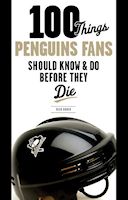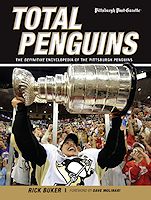 available at TriumphBooks.com, Amazon.com, and BarnesandNoble.com