I'll say this for Penguins GM Jim Rutherford. He ain't afraid to roll the dice.
Displaying the brass of a riverboat gambler, JR wrested center Nick Bonino and defenseman Adam Clendening from Vancouver for third-line center Brandon Sutter. The black and gold also received the Canucks' second-round pick in 2016 in exchange for the third-round choice imported from Buffalo for Dan Bylsma.
Almost simultaneously the venerable exec inked free-agent center Eric Fehr to a three-year deal worth $2M annually. In an unusual twist, Fehr isn't likely be available to the Pens until December due to off-season elbow surgery.
The moves should ultimately add flexibility and depth to a Penguins squad that hemorrhaged no fewer than eight regulars over the summer to trades, free-agency, and attrition. They also serve as a hedge if veterans Pascal Dupuis and Chris Kunitz can't return to form.
Fehr, who established a reputation as a Penguin-killer during a solid 10-year NHL career, figures to be a most welcome addition. The big-bodied forward is blessed with surprisingly soft hands and a willingness to work the dirty areas. A center by trade, the former Capital can also play right wing in a pinch.
A 27-year-old center, Bonino emerged as a scorer with Anaheim in 2013-14, tallying 22 goals. The Hartford native followed up with a solid 15-goal campaign with the Canucks last season. He's described by The Hockey News as a hard-working, two-way forward with an offensive upside.
The sleeper may be Clendening. Chicago's second-round pick in 2011, he garnered All-Star honors at Boston University and in the AHL. Although undersized at 190 pounds, the skilled defender piled up 12 goals and 59 points with Rockford in 2013-14. Last season he made an auspicious NHL debut, scoring on his first shot on goal.
Acquired in 2012 for Jordan Staal, Sutter was productive and dependable–if somewhat maligned–during his three-year stay in the 'Burgh. Advanced-stats mavens were especially harsh, citing Brandon's less-than-stellar possession numbers. But Sutter was a hit with his teammates, played sound defense, and displayed a knack for delivering in pressure situations. He also possessed a quick release and underrated shot, notching 21 goals last season.
The downside? Barring a personnel purge, the Pens are virtually pinned to the salary-cap wall. According to the Tribune Review's Jonathan Bombulie, the black and gold presently has less than $500,000 of available cap space. Barely enough for five new Zambonis and a couple of bags of pucks.
Still, the newcomers will make the Pens a better team.
*Be sure to check out Rick Buker's books,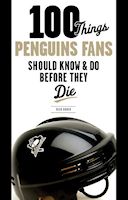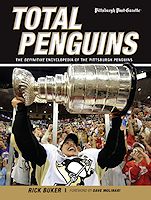 available at TriumphBooks.com, Amazon.com, and BarnesandNoble.com