From the moment he first skated onto an NHL rink as a callow 19-year-old, Marc-Andre Fleury flashed the extraordinary flexibility and cat-like reflexes that had pro scouts drooling. Attributes that encouraged then-Penguins GM Craig Patrick—seeking a franchise goalie—to trade up in the 2003 Entry Draft to take the Cape Breton marvel No. 1 overall.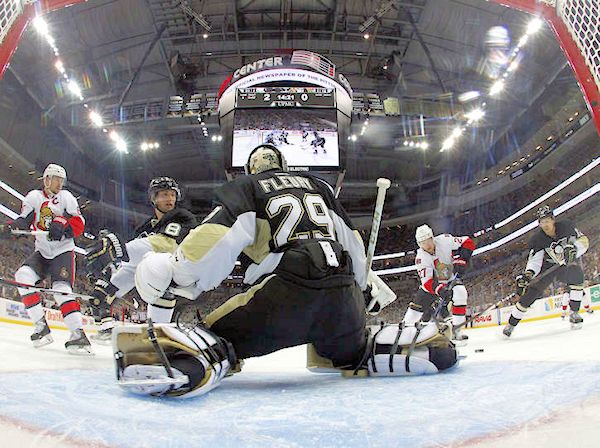 A dozen years down the road? Fleury is firmly entrenched as the (black and) gold standard among Pens goalies, surpassing former great Tom Barrasso. "Flower's" the all-time leader in virtually every major category, including games (606), victories (329), and shutouts (40).
Considering his willowy 6'2" frame, he's been remarkably durable. Seven seasons with over 60 starts. He's appeared in two NHL All-Star games. Did I mention he owns a Stanley Cup ring?
It hasn't all been a bed of roses. Flower's drawn his share of heat, mostly over his checkered postseason past. Others have questioned his mental toughness and coolness under fire. Indeed, it's been a worrisome thread for the likeable goalie through the years.
Remember the 2013 playoffs? When Flower's porous play between the pipes forced then-coach Dan Bylsma to go with journeyman Tomas Vokoun, his confidence seemed all but shattered.
Alarmed by the meltdown, the Penguins arranged for Fleury to see a sports psychologist. However, the true turning point occurred in August 2013 when Ray Shero promoted Mike Bales to succeed Gilles Meloche as goaltending coach.
The former NHL netminder quickly developed a rapport with Flower. Together, they began to smooth the rough edges from Fleury's game without detracting from the breathtaking athleticism that long ago made No. 29 a darling of the highlight videos.
The result? Fleury's more fundamentally sound. His movements more economical. In particular, he's learned to control the rebounds that used to pop off his pads like so many gumballs spouting from a dispenser.
Something else changed—and quite audibly. Something in Fleury's psyche. Never before has the native of Sorel, Quebec been so rock-solid. So steely. You see it in his eyes. On the rare occasions he yields a goal, you sense his determination. I'm not allowing another one.
A truly remarkable transformation.
His numbers this season? Terrific. Seven wins (including two shutouts), a microscopic 1.74 goals against, and a sterling .939 save percentage. Arguably the Pens' best player, the reigning team MVP's been the backbone behind the black-and-gold's surprising 9-4 start.
Like a fine wine he's improving with age.
Dupuis Hospitalized
Pascal Dupuis was taken to an Edmonton hospital as a precaution on Friday. There was concern that his symptoms were linked to the blood clot that sidelined the ultra-popular winger for all but 16 games last season.
"We've said all along that Pascal's health is the highest priority," GM Jim Rutherford told the Penguins website. "We will take every precaution necessary to ensure he is in good health."
Thankfully, the tests were negative.
Our thoughts and prayers are with you, Pascal.
*Be sure to check out Rick Buker's books,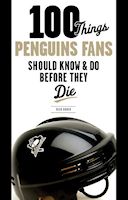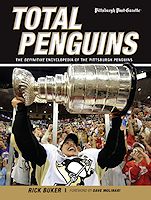 available at TriumphBooks.com, Amazon.com, and BarnesandNoble.com