A while back I read an article that downplayed the importance of building through the Entry Draft.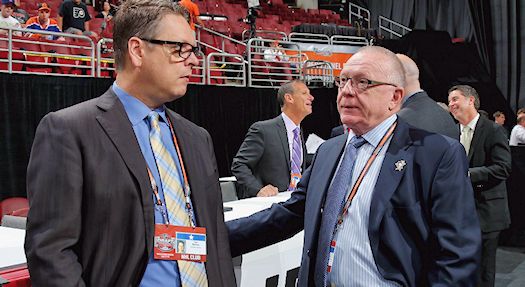 I beg to differ. Developing young talent is the life blood of any hockey team. Fail to do so, and eventually your team will collapse like a house of cards.
Ever since the Penguins won the Cup in 2009, they've used draft picks as fodder to trade for short-term reinforcements. Former GM Ray Shero dealt a first-round pick (2013), two second-rounders (2010, 2014) and two third-round picks (2011, 2014). His successor—Jim Rutherford—upped the ante, peddling this year's first-round pick and a second-round choice in 2016.
The practice is understandable. With superstars Sidney Crosby and Evgeni Malkin in their respective primes, the future is now.
However, robbing Peter to pay Paul takes a toll. Anyone remember the dreadful "Boys of Winter?" The end result of GM Baz Bastien's ruinous penchant for swapping draft picks for veterans. After drafting brilliantly his first few seasons, Craig Patrick relied too heavily on trades and pricey free-agents. It led to a fire-sale and collapse in the early 2000s.
By contrast, the Stanley Cup teams of 1991-92 and '09 were built upon the bedrock of homegrown talent. To illustrate my point, I've identified the 1988-89 and 2006-07 squads as the foundational teams for the future Cup champions.
In both of those seasons the Pens recorded winning records and made the playoffs following prolonged droughts. In each case, they achieved the turnaround largely with players developed within the organization.
Season
Total Man Games
Total Man Games (Draft Picks)
Percent
Total Goals
Total Goals (Draft Picks)
Percent
1988-89
1526
837
55%
347
229
66%
2006-07
1565
1068
68%
267
219
82%
Draft picks include free agents who signed their initial pro contract with the Pens
Take 2006-07, for example. A staggering 82 percent of the club's goals were scored by players who began their pro careers with the Penguins.
Sid and Geno formed the core. Many of their fellow draftees, including Marc-Andre Fleury, Kris Letang, Brooks Orpik, Rob Scuderi, Jordan Staal, and Max Talbot went on to play pivotal roles in the '09 Cup triumph. Others, such as Colby Armstrong and Ryan Whitney, fetched missing pieces to the Stanley Cup puzzle.
How does the 2014-15 team stack up? A comparatively paltry 38 percent of this season's goals have been tallied by Penguins draftees and first-time pros. A figure more in line with the close-but-no-cigar clubs than the Cup winners.
Unfortunately, the Pens' developmental pipeline isn't exactly brimming with elite talent. Yes, defensemen Derrick Pouliot and Olli Maatta ooze all-star potential. JR and Co. seem high on Brian Dumoulin and Scott Harrington, as well as goalie Matt Murray and European-bred skaters Kasperi Kapanen and Oskar Sundqvist. But the prospect pool at Wilkes-Barre—especially up front—is shallow.
With eight members of the current black-and-gold roster slated to become UFAs this summer, Rutherford once again will have some significant holes to fill. No doubt he'll mine the free-agent market in hopes of landing a plum or two like Blake Comeau.
Perhaps it's time for a renewed emphasis on drafting and player development, too.
*Be sure to check out Rick Buker's books,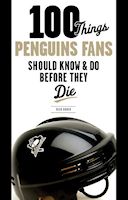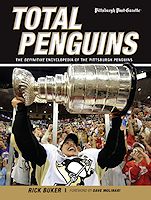 available at TriumphBooks.com, Amazon.com, and BarnesandNoble.com