Just when you thought it was safe to toss your old Ben Lovejoy jersey, GM Jim Rutherford pulled off two buzzer-beaters at the trade deadline.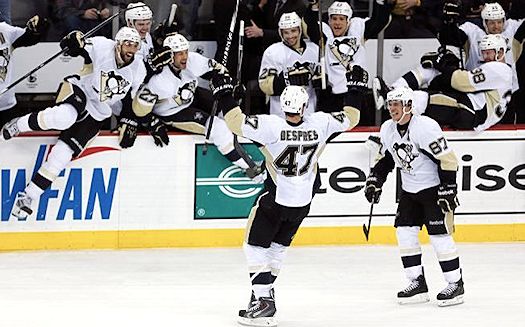 Seeking to improve the Penguins' defense for the postseason, JR swapped rugged Robert Bortuzzo and a 7th-round pick in the upcoming draft to St. Louis for sturdy Ian Cole. He followed up by dealing talented but green Simon Despres to Anaheim for ex-Pen Lovejoy.
Here's a quick summary.
The Acquired—A former No. 1 pick, Cole established himself as a steady stay-at-home defender with the Blues. In 54 games this season the Michigan native tallied four goals and nine points, along with a sparkling plus-16. For his career he's a plus-40.
His advanced stats this year are solid as well—a 6.8 Corsi/60 and a 5.5 Fenwick/60 at even strength.
Steel City fans are familiar with Lovejoy. "The Reverend" broke in with the Pens back in 2008 and skated in 95 regular-season games for the black and gold before heading west two years ago. The Dartmouth grad blossomed in Anaheim, teaming with Cam Fowler on the Ducks' top pairing.
Heady and mobile, Lovejoy was singled out by Sidney Crosby during his earlier stint in the 'Burgh as the toughest defender to beat in practice.
The Departed—The Pens sacrificed some youth and skill, not to mention size and aggression.
A decent skater for a big man, Bortuzzo carved out a reputation for edgy, physical play. His effectiveness waned after losing two fights to Devils dynamo Jordan Tootoo on December 29. In 24 games since, "Bortz" was minus-9 with a lone assist.
Sprung from former coach Dan Bylsma's doghouse, Despres played extremely well through the early going. The 23-year-old was surprisingly tough, too, dishing out a team-high 184 hits and dropping the mitts five times. Following a rough patch in January/February (minus-7 in seven games) his confidence wavered. The rangy defender appeared to be more tentative in recent weeks.
The Take—"We felt to have a good run in the playoffs we needed more experience and that's why we made these two deals," Rutherford explained during a press conference.
Cole and Lovejoy should be an upgrade over Bortuzzo and Despres—at least in the short run. Only time will tell whether the latter fulfills his considerable promise.
Organizational depth no doubt influenced the trades. Waiting in the wings at Wilkes-Barre, Brian Dumoulin and rugged Reid McNeill may eventually replace the twin towers on the Pens' backline.
*Be sure to check out Rick Buker's books,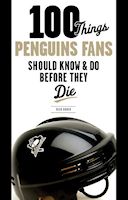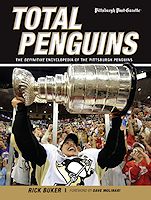 available at TriumphBooks.com, Amazon.com, and BarnesandNoble.com