It's been a topsy-turvy season in Penguin-land. For starters, there's a new coach and GM. Not to mention tons of personnel changes and the usual spate of injuries and illnesses to contend with. Even team captain and reigning Art Ross and Hart Trophy winner Sidney Crosby hasn't been immune, enduring an uncharacteristically epic scoring drought.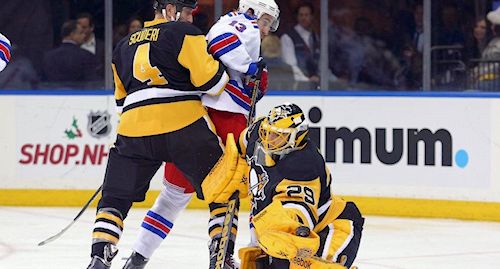 Fortunately, a number of Sid's teammates have stepped to the fore during these uncertain times to help pick up the slack.
Marc-Andre Fleury—With the exception of a mild post All-Star Game flinch, Fleury's been superb all year long. The numbers speak for themselves—a sparkling 2.16 goals-against average, a league (and career) high eight shutouts, and a .925 save percentage—fourth best in the NHL.
Indeed, Fleury is fulfilling the promise that made him a No. 1 overall pick all those years ago. Still remarkably athletic and durable at age 30, "Flower's" carried the team on his slender shoulders while displaying a surprisingly competitive edge. Thus far, he's the Pens' unquestioned MVP.
Kudos to GM Jim Rutherford for locking up No. 29 for four more seasons.
Kris Letang—"Tanger's" made a stunning recovery from the stroke that threatened to end his career. While fellow superstars Crosby and Evgeni Malkin have languished at times, No. 58 elevated his game. Enjoying arguably his finest season in a Penguins uniform, he's tied for the NHL lead in points among defenseman (47).
Letang's advanced stats reflect his dominance. His Corsi For (56.1%) and Fenwick For (56.4%) possession stats at even strength are excellent. As are his Corsi/60 Rate (13.9) and Fenwick/60 Rate (10.6).
He's a cinch to win the Masterton Trophy and should garner serious support for the Norris Trophy.
Paul Martin—Following two turbulent seasons in the Steel City, then-GM Ray Shero asked Martin if he wanted out in 2012. The Minnesota native said no. Since then he's been arguably the Pens' best all-around defenseman.
Calm, cool, and poised with the puck, the unflappable redhead has been especially steady this season (plus-17). He's averaged over 22 minutes of ice time per game while contributing greatly to partner Kris Letang's resurgence. Too bad he's a UFA-to-be.
Blake Comeau—Culled from the free-agent scrap heap at a rock-bottom price, Comeau's been a revelation. Expected to fill a bottom-six role, the former 20-goal man pounced on an opportunity to re-establish himself as a scorer when Pascal Dupuis went down with a blood clot.
Slotted next to Malkin on the second line, Blake's potted 14 goals in 39 games—a 30-goal pace over a full season. As advertised, he's provided speed and grit (120 hits), too.
Rob Scuderi—During the opening round of last year's playoffs, I blogged that the Pens should bench Scuderi. Struggling to recover from the lingering effects of a broken ankle, it looked as though the one-time stalwart and Stanley Cup hero had reached the end of the line.
When "Scuds" was penciled into the defensive rotation last fall, I was dubious about his ability to bounce back. The veteran defender proved me wrong. No, he isn't pretty to watch. But he's been solid and reliable (plus-12)—the hallmarks of his game. A quality guy through and through, he's served as a veteran leader and on-ice mentor for partner Simon Despres and the team's other young defenders.
*Be sure to check out Rick Buker's books,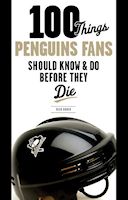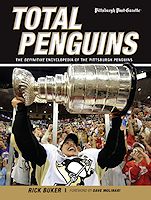 available at TriumphBooks.com, Amazon.com, and BarnesandNoble.com