January 28 at the Verizon Center in Washington. Six minutes to play. Then-Pens defenseman Christian Ehrhoff attempts to ram Alex Ovechkin into the sideboards. With an almost excuse-me sweep of his forearm, the Caps' superman turns the tables and flattens the black-and-gold defender. Ehrhoff sustains a concussion.
There were other incidents like this one in 2014-15. Such as Blue Jackets behemoth Ryan Johansen making road kill of Sidney Crosby at center ice on the opening shift on March 1. Or the Coyotes' Shane Doan launching Kris Letang into the end boards like an unguided missile on March 28, resulting in another concussion. One that doused any hopes for a Cup run.
You get the picture.
Fast-forward to the summer. Penguins GM Jim Rutherford did a lot of good things. Reinforcing the team physically wasn't one of them. Indeed, our Pens seem more vulnerable than ever. Only free-agent winger Sergei Plotnikov has a documented history of aggressive play.
It's a far cry from a few seasons back, when the Pens iced one of the toughest teams around. Wanna' mess with Sid or Geno? Meet Mike Rupp. Take a run at Tanger?  Have a knuckle sandwich, courtesy of Mr. Engelland.
Now our stars have to fend for themselves, as Crosby did when he fought Columbus disturber Brandon Dubinsky last February. What if he'd broken a hand—or worse—bouncing a punch off of Dubinsky's rock-hard helmet? Heaven forbid.
I realize the NHL has entered an enlightened age. Heavyweights have gone the way of the dodo. Fighting is on the wane. Even Filthy McNasties like the Bruins and Flyers are embracing a kinder, gentler style.
More to the point, the Penguins want to emulate the Cup-champion Blackhawks. They want to roll four lines. They don't want to carry a knuckle-dragger who might score a goal, say, every 24 games. Which is what they got from "skilled" fourth-liner Andrew Ebbett last season.
Still, does it make sense to hang your stars out to dry? That's what JR and Company are doing by forsaking any real semblance of a physical presence. Take Letang, for example. The super-skilled defender has sustained three documented concussions over the past five seasons. After Rutherford dealt Robert Bortuzzo and Simon Despres at the trade deadline, opponents ran at Tanger with impunity.
Think our foes will let up this season?
And what about Marc-Andre Fleury? Given the less-than-imposing nature of the Pens' defense, the acrobatic goalie may need a chainsaw to cut sight lines through the forest of opposing forwards stacking up in his crease.
A rugged defenseman would help.
*Be sure to check out Rick Buker's books,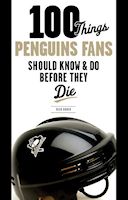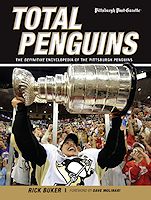 available at TriumphBooks.com, Amazon.com, and BarnesandNoble.com