I never played hockey. Can't skate a lick. But even I know you have to shoot the puck to score.
I wonder if the Penguins do?
For all their wondrous talent, the Pens' power play has morphed into a black hole where scoring chances go to die. There's a reason our boys are 0-for-18 and counting with the man advantage. They don't shoot the puck. Not enough, anyway.
Think Alex Ovechkin needs to be told to shoot? The Pens need to emulate "Ovy."
Tuesday night's 3-1 loss to Washington was especially grating. Handed a gift power play in the final minutes when Caps forward Brooks Laich nudged goalie Marc-Andre Fleury in the paint, the black and gold gave a clinic on what not to do with the man advantage.
Leading the malfeasance was none other than our captain, Sidney Crosby. At a critical juncture El Sid gained possession of the puck just inside the right faceoff circle. Prime scoring turf, right?
Instead of shooting, Crosby tried to feather a touch pass through the slot. Not into the slot, mind you, where a teammate might deflect it on goal. Through it. Big difference.
Naturally, the play was broken up, which begat yet another endless sequence of tic-tac-toe passing around the perimeter as precious seconds drained from the clock.
Will these guys ever learn? Cute won't cut it. Neither will east-west passing and the sharp-angle shots (another Pens specialty) that usually ricochet crazily off the boards and out of the zone. Fancy play does nothing but give opposing penalty killers time to set up.
I'm no strategist. But it seems to me the Pens need to attack down the middle more often and provide puck support from the outside, instead of the other way around. The grinders—with a little help from Kris Letang—provided a blueprint early in the second period. "Tanger" fed Craig Adams steaming down the slot. Adams put the puck on net. Steve Downie made like a street cleaner and swept the rebound past Braden Holtby. They don't come any uglier. Or prettier, depending on your perspective.
Goals don't need to be picture perfect to count. If only our stars would learn…
*Be sure to check out Rick Buker's books,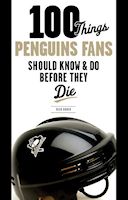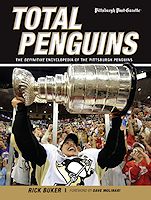 available at TriumphBooks.com, Amazon.com, and BarnesandNoble.com