Buckle up, ladies and gents. The thrill ride's about to begin.
Our Pittsburgh Penguins and the Washington Capitals are set to renew one of the most bitter (and one-sided) rivalries in Stanley Cup history at the Verizon Center on Thursday night.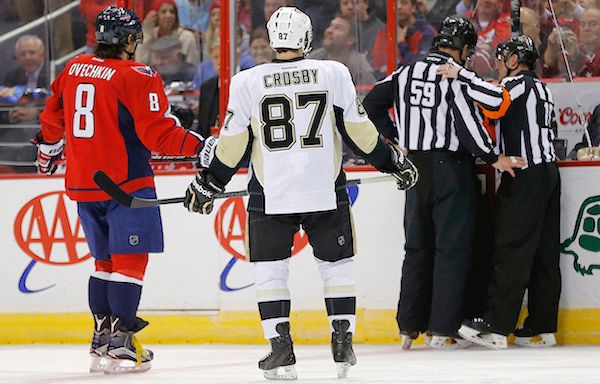 Dino Ciccarelli. EJ versus Schony. Frankie Leroux's rush. The Mask.
Starting in 1991, the Pens and Caps have squared off eight times in postseason play. Incredibly, the black and gold emerged victorious in seven of those series.
In '92 and again in '95, the Pens mounted stirring comebacks from 3-games-to-1 deficits to defeat the Caps. Thanks to Petr Nedved's seeing-eye goal and Ken Wregget's stunning 53-save performance in relief of Tom Barrasso, the locals downed Washington in four overtimes on April 24, 1996.
More recently, Sidney Crosby outdueled "the Great Eight," Alexander Ovechkin, in a scintillating seven-game Eastern Conference Semifinal set. The Pens proceeded to beat Jim Rutherford's Cardiac 'Canes and defending champ Detroit on the way to their third Cup.
Think "Ovie" and his 'mates wouldn't love to return the favor and knock Sid and the boys from Cup contention?
The Capitals certainly have the horses. They weren't the runaway President's Trophy winners for nothing. They're an extraordinarily deep team, especially up front. Ovechkin and fellow Russian Evgeny Kuznetzov—a 77-point scorer—form the hub of the NHL's No. 2 regular-season offense. They're aided and abetted by 20-goal men Nicklas Backstrom, Jason Chimera, T.J. Oshie, and Justin Williams. A potent blend of size, skill, experience and speed. Nasty, too.
Spearheaded by John Carlson, Karl Alzner, Dmitry Orlov and former-Pen Matt Niskanen, the Caps' defense is accomplished and mobile.
In goal? Workhorse Braden Holtby is a tower of strength. He posted a microscopic 0.84 goals-against during the Caps' opening-round triumph over the Flyers.
Great special teams, too.
Here's another stat for you. Eighteen-and-three. The Penguins' record (including the playoffs) since March 11.
Our team is for real.
Everyone contributes. From the superstars on down to the lunch-pail gang and the kids. The Pens' blazing speed—a by-product of Mike Sullivan's aggressive, take-no-prisoners approach and Rutherford's shrewd maneuvers—is giving foes fits. Spreading elite talents Crosby, Evgeni Malkin and Phil Kessel over three lines creates massive matchup problems.
When they're "playing the right way," to coin a pet Sullivan phrase, the Penguins are a most formidable adversary.
List Washington among their victims. In the final two regular-season meetings between the old rivals the locals shredded the defensively sound Caps for 10 goals. Nine were yielded by the usually redoubtable Holtby.
It'll be interesting to see how Barry Trotz's crew responds. They'll likely try to impose their will by muscling the Pens around. Expect plenty of extracurriculars from Ovechkin and rugged Tom Wilson—at least early on. Veterans Mike Richards and ex-Pen Daniel Winnik could fill key shutdown roles.
The Rangers tried a physical approach. It failed miserably. The black and gold torched 'em on the power play (38.1% success rate). Led by Nick Bonino and Eric Fehr, our penalty killers were just as special. They held New York to a pair of man-advantage goals in 19 tries. They'll need to keep up the good work against the Caps.
Did I mention team defense? Harried by a ferocious Penguins forecheck, New York had trouble exiting their end and building any speed through the neutral zone. When they breached the Pens' blue line, Kris Letang and his no-name cohorts made it difficult to sustain an attack.
"They play a real sound defensive game," Rangers coach Alain Vigneault noted.
Bottom line? It should be a great series between two terrific teams, featuring hockey's most magnetic stars.
Again, I like our chances.
To borrow from a catchy old Eat'n Park commercial.
"CRUSH THE CAPITALS!"
*Be sure to check out Rick Buker's books,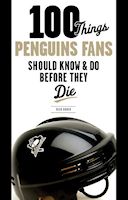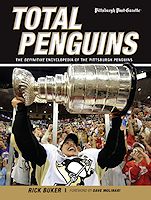 available at TriumphBooks.com, Amazon.com, and BarnesandNoble.com