Here's a look at how former Penguins have fared thus far in 2015-16. Stats reflect games played through Saturday, February 20.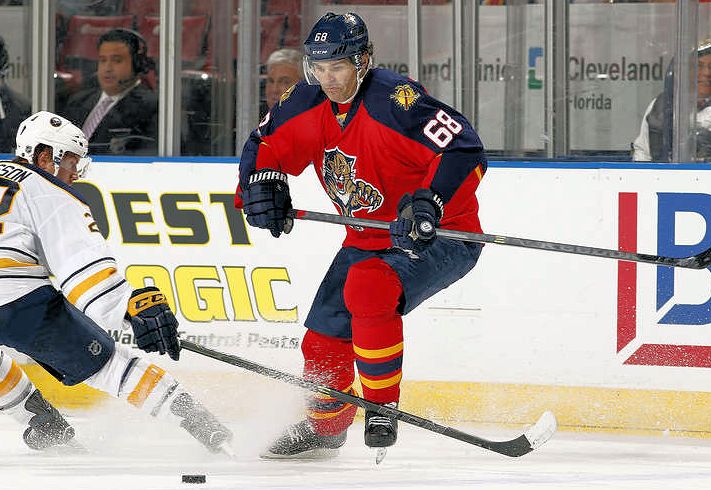 Ageless Jaromir Jagr leads the ex-Pens in points (43). James Neal tops the list in goals (21), with Jagr a close second (20). Jussi Jokinen paces the black-and-gold alum with 29 assists. Jarome Iginla has 17 goals, followed by Lee Stempniak and streaking Jordan Staal (15 apiece). Neal leads with a plus-16.
Jake Muzzin (2007 draft pick) is the high scorer among defensemen with seven goals, 25 assists and 32 points. Alex Goligoski is second among the blueliners with 25 points, followed by Matt Niskanen (24).
Thomas Greiss tops the goalies with a 2.19 goals-against average and 16 wins.
SCORING
Player
Team
Pos
GP
G
A
PTS
PIM
+/-
Jaromir Jagr
FLA
RW
56
20
23
43
36
15
Lee Stempniak
NJD
RW
60
15
25
40
32
3
Jussi Jokinen
FLA
LW
59
11
29
40
34
15
Jordan Staal
CAR
C
59
15
22
37
14
8
James Neal
NSH
LW
59
21
15
36
59
16
Jarome Iginla
COL
RW
61
17
18
35
29
-16
* Jake Muzzin
LAK
D
58
7
25
32
46
6
David Perron
PIT-ANA
LW
57
10
19
29
44
-1
Marian Hossa
CHI
RW
54
10
18
28
20
10
Blake Comeau
COL
LW
60
9
19
28
46
0
Alex Goligoski
DAL
D
60
4
21
25
28
10
Matt Niskanen
WSH
D
57
3
21
24
24
15
Mark Letestu
EDM
C
60
7
9
16
2
-13
* Matt Moulson
BUF
LW
58
5
9
14
6
-1
Daniel Winnik
TOR
C
53
4
10
14
12
-2
Paul Martin
SJS
D
54
2
11
13
16
4
Dominic Moore
NYR
C
56
5
6
11
20
-3
Christian Ehrhoff
LAK
D
40
2
8
10
32
-10
Brandon Sutter
VAN
C
20
5
4
9
2
3
Chris Thorburn
WPG
RW
58
5
4
9
67
0
Bobby Farnham
PIT-NJD
RW
38
7
1
8
65
-1
Tyler Kennedy
NJD
C
33
1
6
7
8
-11
Nick Spaling
TOR
C
35
1
6
7
18
-7
Steve Downie
ARI
RW
26
3
3
6
53
1
Zbynek Michalek
ARI
D
48
2
4
6
18
4
Brooks Orpik
WSH
D
17
2
4
6
18
4
Max Talbot
BOS
C
36
2
4
6
15
-10
Michal Rozsival
CHI
D
34
1
5
6
14
1
Deryk Engelland
CGY
D
49
1
4
5
36
-1
* Joe Morrow
BOS
D
23
1
4
5
4
-6
Brian Strait
NYI
D
37
1
4
5
27
2
Taylor Chorney
WSH
D
45
0
5
5
17
11
Mark Arcobello
TOR
RW
17
3
1
4
0
2
Rob Scuderi
PIT-CHI
D
42
0
4
4
8
-2
Tanner Glass
NYR
LW
34
1
2
3
36
-5
Dustin Jeffrey
ARI
C
7
1
1
2
2
2
Jayson Megna
NYR
C
6
1
1
2
2
-1
Adam Clendening
PIT-EDM
D
12
0
2
2
16
4
Simon Despres
ANA
D
15
0
2
2
4
1
Robert Bortuzzo
STL
D
30
1
0
1
50
0
Rob Klinkhammer
EDM
LW
14
1
0
1
6
-6
Colin McDonald
PHI
RW
5
1
0
1
7
0
Zach Sill
WSH
C
9
1
0
1
2
0
Thomas Greiss
NYI
G
26
0
1
1
2
0
Scott Harrington
TOR
D
15
0
1
1
4
0
* Chad Johnson
BUF
G
32
0
1
1
0
0
Cal O'Reilly
BUF
C
5
0
1
1
2
-1
Andrew Ference
EDM
D
6
0
0
0
6
-4
Nate Guenin
COL
D
29
0
0
0
2
2
Philip Samuelsson
ARI
D
3
0
0
0
2
0
Eric Tangradi
DET
LW
1
0
0
0
0
0
Joe Vitale
ARI
C
1
0
0
0
5
1
Harry Zolnierczyk
ANA
LW
1
0
0
0
0
-1
GOALTENDING
Player
Team
GP
MIN
GA
SH
AVE
W-L-OT
Thomas Greiss
NYI
26
1480
54
1
2.19
16-6-3
* Chad Johnson
BUF
32
1827
76
1
2.50
13-14-3
Italics—Draft pick or free agent who began his pro career with the Penguins
Asterisk—Draft pick who didn't appear in a regular season or postseason game for the Penguins
*Be sure to check out Rick Buker's books,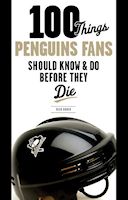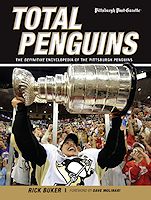 available at TriumphBooks.com, Amazon.com, and BarnesandNoble.com