Something old, something new. Something borrowed, something blue.
You might be wondering what the heck an olde English bridal rhyme has to do with hockey.
Guess it kind of reminds me of our Penguins. A true mulligan stew of superstars, grinders, castoffs and kids. Beautifully seasoned and stirred by head chefs Jim Rutherford and Mike Sullivan into a delicious hockey team. One that stands a lone victory away from reclaiming Lord Stanley's coveted chalice for the Steel City.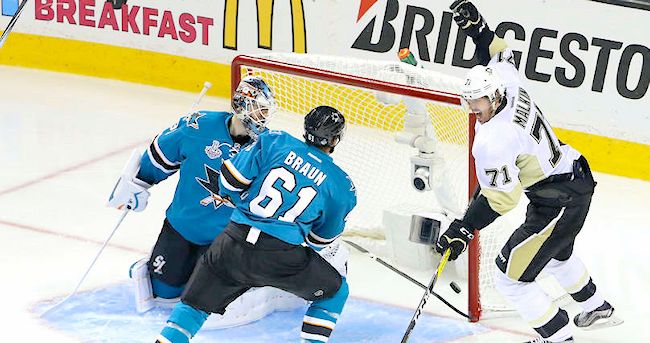 In many ways yesterday's 3-1 triumph over San Jose in Game 4 of the Stanley Cup Finals symbolizes our new-look Pens. Thanks in no small part to Rutherford's artful restoration, no longer a group that relies solely on its superstar core. Everyone, it seems, chips in.
Last night was no exception.
Longtime stalwart Evgeni Malkin led the way with an impassioned performance. Held off the score sheet for the first three games of the series, the first-time papa rose to the occasion with a key goal and assist.
"I just thought he had one of his strongest games of the playoffs at an important time for us," Sullivan said.
Newcomer Phil Kessel contributed mightily with two clutch assists, including a dandy on Malkin's power-play tally at 2:37 of the second period. "Geno" chipped home Kessel's alert, cross-crease feed for what proved to be the game winner.
Reclamation project Ian Cole, who languished in the press box for a month during the regular season, continued his stunning metamorphosis from chrysalis to butterfly. The Notre Dame grad struck for the game-opening goal—his first of any kind this season—to restore the Pens' sagging mojo. Cole logged 18:48 of typically physical, error-free defense.
"I hit a lot of posts, a lot of sticks; pucks were going to the open net and they'd get tipped wide," the Pens' defenseman said. "It was a weird year in that sense. It's nice to finally get that one. I was saving a special one for a special game."
Has anyone scored a prettier goal this postseason than Eric Fehr? Consigned to the role of fourth-line mucker, the big forward burst into the slot to take Carl Hagelin's perfect pass and ripped the puck past Martin Jones to squelch a late San Jose push.
While we're handing out plaudits, how about Matt Murray? The ever-cool youngster stopped 23 shots—including a breakaway attempt by Sharks sniper Patrick Marleau early in the third period—to ice his 14th playoff win. One shy of the postseason record for rookie goalies.
A perfect win? No. Our guys sat back a little too much for my taste. Especially in the third period, when they allowed San Jose to carry the play.
What's that old saying about a prevent defense? It prevents you from winning.
A big win? Huge. The Penguins return to the cozy confines of Consol Energy Center on Thursday night with a chance to do something never accomplished in the team's rich and storied 49-year history. Not even by Mario Lemieux and his fellow Hall-of-Famers.
Win a Stanley Cup on home ice.
"We have a team that has a lot of guys that have been to the top of the mountain so to speak," said Matt Cullen, who won a Cup with Carolina back in 2006. "We know it's a huge opportunity."
*Be sure to check out Rick Buker's books,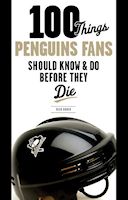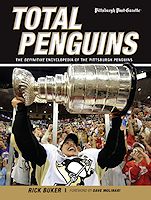 available at TriumphBooks.com, Amazon.com, and BarnesandNoble.com