The Penguins have a rare opportunity in the age of the salary cap, they can bring back every player that played a main role in their winning of the Stanley Cup, even Reverend Lovejoy.  All of the talk is about Fleury and his salary cap value.
The NHL is expected to raise the salary cap 3 million.  The best GMs are the ones that plan for the future and yes there is an expansion draft next summer and yes the Penguins probably can only protect one goaltender, but who cares.  The Penguins can win another Stanley Cup before then.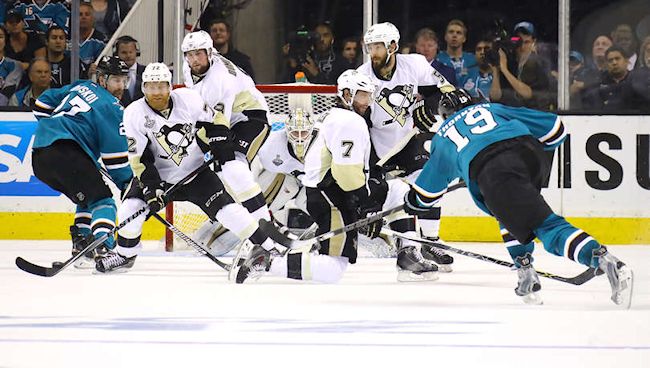 Last year, the Penguins traded for defenseman Justin Schultz from Edmonton and many of us were left scratching our heads as to why the Penguins needed another defenseman.  I'm sure everyone remembers when Daley went out in the playoffs and the Penguins were able to replace him with Schultz.
Perhaps you remember our main goaltender Marc-André Fleury being out for a good while with a concussion.  Do you remember as well Murray being out at the exact same time with a concussion?  If you question the value of two top quality goaltenders, ask Tampa Bay if they think they would have won that close series with their #1 goalie in net.  Would you want to lose this Stanley Cup contending team's chances of defending of the Cup to a torn ACL?
Having a great backup at that position isn't even the main reason to keep Fleury.  All of the Penguins goaltending talk should be revolving around the new regulations the NHL is expected to impose on goaltenders before the start of next year and the effect it could have on the current goaltenders in the NHL and on the Penguins' roster.
I like many others have wondered why an NHL team doesn't just hire a 600-lb. player and plop him in front of the net.  This summer the NHL is expected to impose leg-pad size, padding size, chest-protecter size and other restrictions on goaltenders.  Athletic goaltenders could become the hot commodity in the NHL.  Goaltenders that are big and just stand there could become a thing of the past.
That is just two reasons to keep Fleury.  There are a ridiculous amount of other reasons.
Like the fact that the Penguins would be risking in my estimation the five prime years they have left with these star players to win a cup on a goaltender that has played 34 games in the NHL.  The true reason for Matt Murray's greatness in the playoffs was the players who jumped in front of pucks all playoffs.  As Murray even said himself, he counted at least four times in one game players jumped face first into shots.  If you think that the Penguins players are going to lay in front of shots all season like they did in the playoffs, you are sadly mistaken.
How bad would it be if the rookie goalie would spend a season working along side a guy who at 31 years of age is the #19 all-time winningest goaltender in the NHL?
I'm just going to keep rolling with these reasons if it is ok with all of you…
Let's say Murray is working out pretty well and half way through the season and we lose a star player to a long-term injury.  Having a Fleury to trade to get the exact position player we need would be a huge bonus.  According to internet rumors, several teams have already inquired about Fleury, why not get what we need when we need it.
Now for that expansion draft everyone is worried about, the NHL is working on a new possible expansion idea where protecting players is one part, but teams may have to put up a percentage of salary.  It has came up that players that constitute up to 20% of a team's salary might have to be made available in the draft.  Having Fleury's salary to make available for this might really help the team out.
I've heard too much talk over the last five years about trading Crosby, Malkin and other Penguins star players.  I ask the people who wrote, commented or even just suggested those in conversation how ridiculous those ideas are now?
Let's enjoy the summer with the Stanley Cup while not trading away one of the best goaltenders in the league for draft picks and without risking the team to a rookie who has played 34 NHL games.  Being good/intelligent Pittsburgh Penguins fans and not selling out players is what makes quality players want to play here.  Ask Toronto how that is working out for them.
This team is the best team in the league! Let's give them a chance to defend the Cup.