If you're like me, you passed your summer lolling in a bucolic post-Cup haze, secure in the knowledge that our Penguins once again proved beyond a shadow of a doubt that they're the crème of the NHL crop.
As the old saying goes, all good things must come to an end. It's time for us to put our hard-earned Cup on the line.
There'll be challengers aplenty, for sure, eager to snatch Lord Stanley's glittering chalice from our trophy case. Columbus added front-line sniper Artemi Panarin in a big trade with Chicago. The Rangers landed Kevin Shattenkirk, a coveted offensive defenseman. Led by glitzy No. 2 overall pick Nolan Patrick and a bevy of talented kids, Philly is poised for a leap. So are the Hurricanes. And that's just the Metro.
Can our Pens fight off the contenders and become the first team since the 1981-82 New York Islanders to three-peat? I'll dust off my crystal ball and try to provide an answer.
First, let's dwell on the positives. There are lots of 'em.
Star Power
Although Toronto is rapidly gaining ground, the Pens still possess the best collection of high-end skill players in the league. For sheer star power, no club can match the quartet of Sidney Crosby, Evgeni Malkin, Phil Kessel and Jake Guentzel, to say nothing of defensemen Kris Letang and Justin Schultz.
In particular, the quicksilver trio of Crosby, Guentzel and Conor Sheary promises to be downright lethal. Likewise, Malkin and Kessel form a deadly duo, especially on the power play. If Carl Hagelin or Scott Wilson can ably man the port side, the Pens will boast two terrific lines.
Dee-fense
Shorn of Letang, the Pens' no-name defense received a baptism by fire last spring. By all accounts, the blueline crew passed with flying colors. Schultz proved that his heady regular-season production and overall steady play were no fluke. Playing through painful injuries, Ian Cole and Brian Dumoulin were rock-solid and showed a ton of guts.
Olli Maatta had his moments. Better yet, the young Finn appears to have found a step over the summer, which could signal a return to his rookie-season form. Free-agent Matt Hunwick, solid on the PK, and seventh man Chad Ruhwedel provide quality depth.
If "Tanger" stays healthy, defense won't be an issue. The same goes for goaltending and icy cool Matt Murray, who takes over as full-time starter.
Intangibles
By all accounts, Crosby's obsessed with winning another Cup. That's great news. Over the past two seasons, he's emerged as hockey's finest leader since Steve Yzerman, ironically the last NHL captain to win back-to-back Cups.
Like his boyhood idol, Sid works his tail off at both ends of the rink and sets a sterling example for teammates, young and old. How can you not follow his lead?
Malkin, too, has emerged as a driving force. Nobody stood up for the team last season more than "Geno". When the chips are down, the big Russian always seems to step up, often in dynamic fashion.
Nor does it end with the "Two-Headed Monster". Patric Hornqvist would skate through a brick wall if you asked him to. Even with the departure of veteran leaders Matt Cullen and Chris Kunitz, there are plenty of character guys to show the way.
Coach 'Em Up
Is there a better skipper in all of hockey than Mike Sullivan? He's a players' coach, master psychologist and taskmaster all rolled into one, with a God-given knack for squeezing the most from his troops. He treats his players like men and they respond. "Sully's" a great X's and O's guy, too.
Sergei Gonchar, Mark Recchi and defensive whiz Jacques Martin round out a very capable staff.
Gee, Buker, with all this going for us, the Pens must be a shoe-in to capture a third-straight Cup, right?
Wrong. There are plenty of reasons for concern.
Shuffle the Deck
It's a harsh reality of the salary-cap era. No team stays intact for very long. That's part of what makes the Pens' back-to-back Cups so remarkable…and rare.
GM Jim Rutherford did an amazing job last season of minimizing roster turnover. This summer was a far different story. Any way you slice it, the locals took a significant hit. Centers Cullen and Nick Bonino, defensemen Trevor Daley and Ron Hainsey, and mainstays Kunitz and Marc-Andre Fleury all left for greener pastures.
Rutherford did his best to plug the gaps. While I applaud JR for not forcing a trade, the gaping hole at center remains, yawning like a veritable Grand Canyon in the middle of the lineup.
Bonino and Cullen left some awfully big skates to fill. For starters, they combined for 31 goals last season—excellent output from bottom-six centers. They led all black-and-gold forwards in shorthanded ice time. Bonino blocked a ton of shots; Cullen was excellent in the faceoff circle. Together, they shouldered a sizeable workload, which helped keep Sid and Geno fresh.
Just as important, each was capable of filling a top-six role in the event of an injury. A vital trait when you consider Crosby's concussion history and the fact that Malkin has missed 45 games over the past two seasons.
For now, the Pens will make do with retread Greg McKegg, who they seem to like, and Carter Rowney, a pleasant surprise down the homestretch and in the playoffs. But make no mistake, it's a significant drop-off.
Bottom-Six Blues
One of the qualities that separated the Pens from the pack was the ability to roll four productive lines. Trades, attrition and an abrupt change in philosophy may lead to chemistry issues and a power shortage, especially on the hodge-podge fourth line.
Tired of watching his stars take a beating, Rutherford imported Ryan Reaves from St. Louis to ride shotgun. While the burly right wing—regarded by many as the league's toughest player—figures to shield our stars from undo abuse, it remains to be seen whether the 225-pound slugger can keep pace.
Reaves' presence also creates a logjam at right wing. If he's penciled in on the fourth line and Sheary and Kessel occupy the top two starboard slots, where do Hornqvist and Bryan Rust fit in?
Been There, Done That
We've seen signs of it this preseason. Indeed, on a couple of occasions the Pens' A-team displayed all the fiber of a plate of limp spaghetti sans the meatballs.
Put another way, it's awfully hard to be hungry after you've indulged in a feast. Which, in hockey terms, our guys did by winning back-to-back Cups.
Does the fire still burn?
PREDICTION
Barring a catastrophic run of injuries, the Penguins should have enough to eclipse our Metropolitan Division rivals. Without a significant upgrade at third-line center, I fear that's as far as we'll go.
Even if Rutherford gets his man, the wear and tear of two consecutive Cup runs will eventually take its toll. Sadly, look for Tampa Bay—or the rising young Leafs—to unseat the Pens as Eastern Conference champs.
*Be sure to check out Rick Buker's books,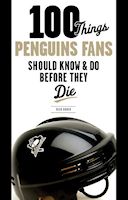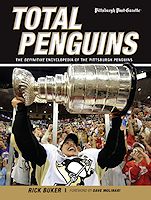 available at TriumphBooks.com, Amazon.com, and BarnesandNoble.com