A year can do a lot to your memory. Especially when you get to be my age.
I'm trying to part the haze and remember how the Penguins played last spring. Every once in a while an image pops through.
Fast comes to mind. Jet fast. And precise. I recall us advancing the puck with a combination of crisp, tape-to-tape passes.
If we dumped the puck in? Speedy forwards like Bryan Rust arrived lickety-split, ready to make a play.
"It's reading and reacting and understanding that the faster you can be, the faster you can do things, it puts your teammates in a better situation when they get the puck," noted Pens forward Chris Kunitz. "Gives them more time to make that next play, catch someone else out of position."
THN scribe Matt Larkin coined a phrase for it. Organized chaos.
Excuse me for saying so. But the only chaos I've witnessed this postseason—organized or otherwise—has occurred in the Penguins' zone…often in close proximity to goalie Marc-Andre Fleury.
My long-winded way of saying we haven't played the way we should.
It isn't that our guys aren't trying, Lord knows. They're on pace to block more shots than finger-wagging Dikembe Mutombo in his prime. Our captain Sidney Crosby, recently concussed, practically launched himself through the end boards in a desperate attempt to score in Game Six. Patric Hornqvist pushes himself to the limit—and beyond—each and every shift. So do the other guys.
No, effort isn't a problem.
Our physical well-being? That's another matter.
The Pens are beat up. The cumulative effect of last spring's Cup run, plus a long and arduous regular season clearly have taken a toll, to say nothing of eleven bruising playoff games against two brutish Metro Division rivals.
Indeed, our guys have absorbed 412 hits this spring, a whopping average of 37 per game. That's a lot of punishment for a smaller team to absorb—a veteran one at that. In particular our defense, minus mobile puck-mover Kris Letang, appears to be a brace of sitting ducks at times. They've taken tons of abuse.
All the hits. All the blocked shots.
Their bruises have bruises.
Still, banged-up as they are, a lone victory is all that separates the Pens from a berth in the Eastern Conference Final and, with it, a chance to continue their quest for a second-straight Cup. One that would cement their legacy as the preeminent NHL team of the new millennium or, at the very least, place them alongside three-time Cup champion Chicago.
That, alone, should provide plenty of motivation for tonight's clash with the Capitals.
If ever there was a time to get back to Mike Sullivan's basics, it's now. Forget about being too fine. Make the simple play. The smart play, as "Sully" is quick to say.
Skate with a purpose. It's the lifeblood of our game, our bread and butter. Chip bodies, battle hard and support each other. Protect Fleury. And for goodness sake, shoot. Good things happen when you get pucks to the net.
May the hockey gods shine a little puck luck on you, too.
Bring everything you've got, lay it on the line and make us proud.
We'll be cheering you on.
*Be sure to check out Rick Buker's books,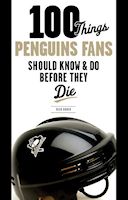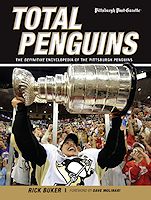 available at TriumphBooks.com, Amazon.com, and BarnesandNoble.com