Can you imagine my shock when I received an e-mail from Mr. Buker, asking me if I would like to write an article or two for PenguinPoop?
My first reaction was to check the date on my calendar and see if it was April 1st! No such luck. The request was real.
Now what do I do? Aside from commenting on PP, I've never written a thing! I do not tweet. I am not active on Facebook or Linked-in.
The only thing I've done for the past two years was join a wonderful community of terrific fans who happen to be very passionate, very knowledgeable, very strong-willed and more than able to defend their opinions when need be, yet always in an understanding and fair way.
If only your media could work that way.
That's the first clue that I'm not from Pittsburgh! It's okay…you can take a deep breath. I have a disdain for the Flyers as much as any of you, and an absolute disgust for Bobby Clarke and the way he cheated by breaking the leg of the best Russian player (Valeri Kharlamov) I have ever seen in the 1972 Canada Cup. We had to cheat to win!
Yes, I'm Canadian. But I love the Penguins. How is that possible, you ask? My late mother was an avid Montreal fan. She loved the flow and speed of the game. My late father was just as much an avid Toronto fan. He played left wing with Dick and Willie O'Ree–the Jackie Robinson of hockey–in high school. So he liked the rough stuff.
My late older brother by eight years was a Boston Bruins and Bobby Orr fan. He also played defense at a very high level. He was captain of his high school team and represented our Province in the Maritime/Atlantic Championships. Later in life, my sister moved to Ottawa and became a clone of my mother. She's an original season ticket holder for Ottawa. So a passion for hockey runs deep in my family.
I was drawn to the Penguins a year before they drafted Mario Lemieux. All the talk in the Quebec Major Junior Hockey League was about this tall, skinny kid who could stick handle in a phone booth, shoot the puck like Bernie "Boom Boom" Geoffrion, but was lazy because he'd let up after scoring five points. Most of the time by the end of the first period!
In other words, Mario was special. My dad, brother and I went to Quebec to see him play. Over 13,000 people came to watch a junior hockey game. Incredible! These Quebecers loved their hockey. Of course, Mario scored many goals that night. I just remember all the noise. Not much else. So when the Pens drafted No. 66, I became a Pens fan.
I've never regretted it. Imagine my excitement when fellow Maritimer, Sidney Crosby, was drafted by the Pens and became the face of the entire league many years later.
A little more background. My brother moved to Newfoundland, where he served as a provincial boys' minor hockey coach and also an Atlantic Canadian coach at the National Minor Hockey Championships for several years. His son was a defenseman like his father. He played with Sidney in several National Championships at various levels throughout their minor careers.
At age 15, Sidney was rated the top offensive player in Atlantic Canada at No. 1. My nephew was rated the top defensive player in Atlantic Canada at No. 2. The games were played in New Brunswick that year, and I was there. Fifteen years ago I could not imagine writing about it today. Strange!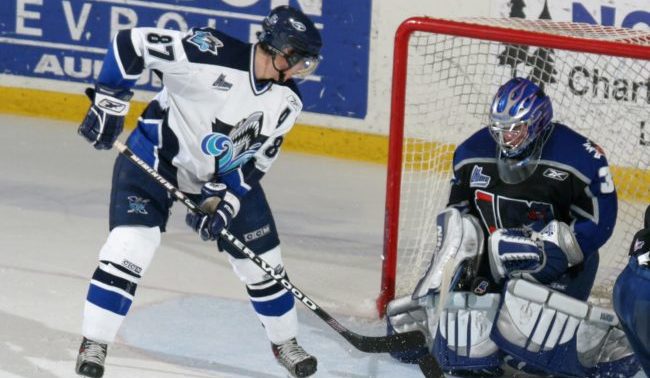 Sidney was selected to play in the QMJHL. So was my nephew. He chose not to be a pro hockey player.
So what does this have to do with me and a blog in Pittsburgh?  Rick asked me if I would like to write something and I must admit it's much, much harder to write on this side of the page then just responding to an article. I sincerely apologize to all of you for the long trip down memory lane, so I must now write briefly about our Pens.
I want to win again in 2018!  Let's three-peat!
Problem is, we have 30 other teams that want to see us fail. Washington is at the top of the list, for sure. It won't be easy.
We need defense! We're going to lose several players from our roster and the farm system is pretty sparse. How much will it cost to re-sign Justin Schultz? (Five-and-a-half million per season, it turned out.) Plus, we still need at least two more big bodies to solidify the back end.
We can talk about the need for center men as well, but for me there are many other options available at all the forward positions throughout the league. But how the d-corps goes pretty much will determine if we lift the Cup one more time in 2018.
The elephant in the room is Letang! Does he come back and plays like the Kris Letang of old? Or are we going to get an old Kris Letang with greatly diminished talent levels and recurring injuries?
I'm afraid I don't know the answer just yet.
Any thoughts?
PS: Thanks Rick and Phil for the opportunity! It was an interesting experience for sure.