Let me first say thanks to Rick and Phil for inviting me to write here on PenguinPoop. Hopefully, when I do contribute, I can at least maintain the quality of what they have always brought us.
Rick Buker recently called July 1st the "Black Friday" of free agency. Rick, I think that was a pretty accurate allusion. As I read that little quip of yours I could see GMs pushing, shoving, and elbowing each other in the frenzy of desperate Christmas shoppers willing to spend exorbitant amounts of money on players that their teams may not really need or could not afford. Along with the spending spree comes the same insanity with resigning their own players and trading to make room for their acquisitions.
Unfortunately, then comes the dawn. Just like January when the bills from the ridiculous spending sprees come rolling in, eventually comes the reckoning for the reckless spending of the "Black Friday" of free agency.
Montreal and Washington are just two teams that are now facing this reckoning, but neither seems to have learned. The Caps over spent and over traded over the last several years trying to hoist the Cup now they are faced with, as their GM termed it, "The Stanley Cup Hang-Over" without having won the Cup. Just a few seasons back they signed UFA's Brooks Orpik and Matt Niskanen off of the Pens for ~$5 mil each. They didn't stop there. Over the last several seasons they traded for and signed players for nice hefty sums, culminating with their big pay-off from St. Louis last year, the much sought after Kevin Shattenkirk.
Now this year, they have lost Nate Schmidt to the Expansion Draft, Shattenkirk, Karl Alzner, and Justin Williams to free agency. Despite the hard lessons that should have been learned, Washington signed for $5.1 mil per year for 6 years and Evgeny Kuznetsov to $7.8 mil per year for 8 years. Now they find themselves with only 16 signed players at this point and only ~$5.5 mil in cap space to fill out their roster.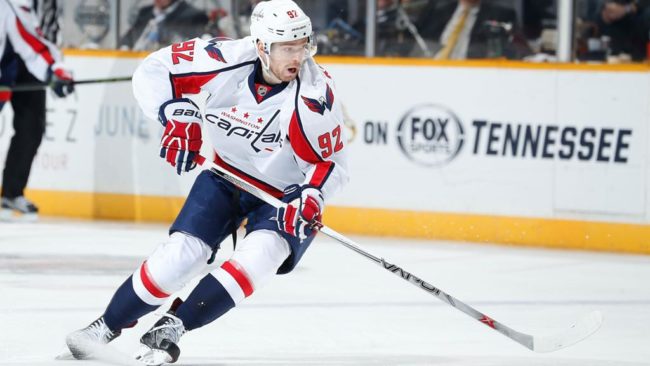 One could argue that Kuznetsov is worth the money, but whom will he be playing with?
Montreal is in a little better shape, at least this year, but they too have lost players to FA because they couldn't afford them. Possibly motivated by fear that they may lose him, they gave Carey Price an 8-year contract extension for $10.5 mil per year. With a 0.923% Sv% and a 2.33 GAA one could argue that he may be worth it, right now but he is 29 years old; 8 years from now he will 37 and still collecting $10.5 mil. Will he still be worth it?
One last example of over-paying Shattenkirk; Erik Karlsson won the Norris Trophy this year had 71 points and was +10 but only was paid $6.5 mil. New York, fresh off of buying out their last mistake, Dan Girardi, threw more good money after bad, $6.65 mil to a player who only managed 51 points and was a –7 for the season. He will be getting a little more than the most recent Norris Trophy but only performed at about 71% of what Karlsson did last year.
What does any of this have to do with the Pens? Just this, Kudos to Jim Rutherford for refraining from joining the madness. It wasn't that long ago that I was lamenting Ray Shero's spending spree and Cap crunches. It wasn't that long ago that these same Pens had to play several games with less than 18 skaters due to Cap constraints, during the stretch run of the play-offs.
And I am not just glad JR hasn't jumped into the spending spree of free agency but also that he hasn't thrown away anything on price gauging skin-flint GMs like Joe Sakic who are asking way too much for players that could be an asset. Yes, I am one of those that would love to see Matt Duchene in a Pens uniform, but not at the current asking price.
I would rather JR hold off a bit until we get closer to Christmas or for the after Christmas sales when prices get back to normal. I have no complaint that Brian Dumoulin and Conor Sheary have gone to arbitration. Neither of these players is irreplaceable. Dumoulin may be a little more important than Sheary, but Dumoulin was very inconsistent last year, only picking it up near the end. Sheary was the opposite. He played well early but then disappeared in the play-offs, particularly in the first 2 series, which really should have been the last two series as the opponents were the better of the four teams the Pens faced.