Led by coach Clark Donatelli, the Wilkes-Barre/Scranton Penguins presently are in first place in the AHL Atlantic Division with a record of 35-11-3 and 73 points—best in the league. The Baby Pens have scored 170 goals (second most in the league) and allowed 118 (fourth fewest).
Rookie Jake Guentzel leads the way with 21 goals and 42 points—second and fourth highest in the AHL, respectively. Veteran Tom Kostopoulos is second on team with 18 goals and 37 points. With nine goals and 15 points in his past 16 games, the Baby Pens captain has been on a tear.
On the flip side, prospect Oskar Sundqvist (three assists in his past 15 games) has cooled following a strong first half. The rangy Swede currently is third on the club with 14 goals and fourth in scoring with 33 points.
Fellow forwards Jean-Sebastien Dea (12), Josh Archibald and Garrett Wilson (11 apiece) and Carter Rowney (10) also have reached double figures in goals.
Defenseman David Warsofsky paces the defense with 35 points, including 10 goals and a team-best 25 assists. Warsofsky heads the AHL with a plus-30, followed by Archibald at plus-24.
Tom Sestito (97), Wilson (74) and Wilkes-Barre native Patrick McGrath (61) lead the Baby Pens in penalty minutes.
Tristan Jarry tops the team's goalies in all major categories, including games (30), minutes (1807), goals against average (2.26), save percentage (.920), shutouts (1) and wins (21).
SCORING
Player
Age
Pos
GP
G
A
PTS
PIM
+/-
Jake Guentzel
21
LW
33
21
21
42
12
21
Tom Kostopoulos
37
RW
49
18
19
37
27
2
David Warsofsky
26
D
34
10
25
35
24
30
Oskar Sundqvist
22
C
43
14
19
33
26
15
Kevin Porter
30
C
45
8
23
31
35
0
Garrett Wilson
25
LW
49
11
18
29
74
16
Dominik Simon
22
C
46
6
20
26
16
-2
Josh Archibald
23
RW
48
11
11
22
33
24
Carter Rowney
27
RW
26
10
11
21
15
6
Jean-Sebastien Dea
22
C
47
12
8
20
29
9
Teddy Blueger
22
C
27
5
11
16
8
15
Chad Ruhwedel
26
D
28
4
12
16
12
0
Tom Sestito
28
LW
25
6
9
15
97
4
Cameron Gaunce
26
D
45
2
11
13
36
12
Ryan Haggerty
23
RW
32
7
5
12
33
2
Danny Kristo
26
RW
28
6
5
11
8
6
Tim Erixon
25
D
29
3
8
11
8
6
Derrick Pouliot
22
D
25
3
8
11
10
6
Sahir Gill
24
C
27
2
9
11
6
1
Ethan Prow
23
D
35
1
9
10
14
-2
Stuart Percy
23
D
32
1
7
8
16
6
Reid Gardiner
20
RW
23
3
3
6
4
-4
Lukas Bengtsson
22
D
16
1
5
6
6
14
Steve Oleksy
30
D
14
1
4
5
16
4
Reid McNeill
24
D
14
1
1
2
21
2
Bobby Goers
30
D
18
0
2
2
6
-2
Jarrett Burton
25
C
13
1
0
1
10
-2
Thomas DiPauli
22
C
8
1
0
1
4
1
Tristan Jarry
21
G
30
0
1
1
2
0
Patrick McGrath
23
RW
18
0
1
1
61
-1
Doug Carr
27
G
2
0
0
0
0
0
Casey DeSmith
25
G
18
0
0
0
0
0
Adam Krause
24
C
1
0
0
0
0
0
Brett Stern
24
D
4
0
0
0
0
0
GOALTENDING
Player
Pos
GP
MIN
GA
SH
AVE
SVPCT
W-L-OT
Tristan Jarry
G
30
1807
68
1
2.26
0.920
21-8-1
Casey DeSmith
G
18
1069
42
0
2.36
0.909
13-3-2
Doug Carr
G
2
80
4
0
3.00
0.897
1-0-0
*Be sure to check out Rick Buker's books,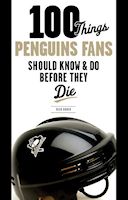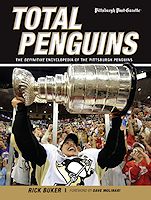 available at TriumphBooks.com, Amazon.com, and BarnesandNoble.com