The Wilkes-Barre/Scranton Penguins, coached by Clark Donatelli, are presently in third place in the AHL Atlantic Division with a record of 8-2-1 and 17 points. The Baby Pens have scored 44 goals (fourth most in the league) and allowed 30 (eighth fewest).
Rookie right wing Daniel Sprong leads Wilkes-Barre/Scranton in scoring with eight goals and 12 points. He's currently tied for second in the American Hockey League in goals. Ryan Haggerty has five goals; Jean-Sebastien Dea, Thomas DiPauli and Gage Quinney have four apiece.
Third-year pro Dominik Simon ranks second among the Baby Pens with 10 points. Simon and defenseman Lukas Bengtsson are tied for the club lead with eight assists, one ahead of defenseman Kevin Czuczman.
Haggerty and Czuczman pace the team in plus/minus (plus-7), followed by Zach Aston-Reese and defenseman Andrey Pedan (plus-6).  Reese and Pedan top the Baby Pens in penalty minutes with 17 and 16 respectively.
Casey DeSmith leads the team's goalies in all major categories, including games (6), minutes (374), goals against average (1.92), save percentage (.934), shutouts (1) and wins (5).
SCORING
Player
Age
Pos
GP
G
A
PTS
PIM
+/-
Daniel Sprong
20
RW
11
8
4
12
6
0
Dominik Simon
23
C
11
2
8
10
8
0
Lukas Bengtsson
23
D
11
0
8
8
4
4
Jean-Sebastien Dea
23
C
11
4
3
7
12
4
Christian Thomas
25
LW
9
3
4
7
4
-4
Kevin Czuczman
26
D
11
0
7
7
4
7
Thomas DiPauli
23
C
10
4
2
6
4
2
Gage Quinney
22
LW
7
4
2
6
0
2
Tom Sestito
29
LW
11
2
4
6
11
3
Garrett Wilson
26
LW
11
2
4
6
8
3
Ryan Haggerty
24
RW
4
5
0
5
2
7
Teddy Blueger
23
C
11
2
3
5
2
3
Adam Johnson
23
C
10
1
4
5
4
-2
Andrey Pedan
24
D
11
1
3
4
16
6
Zach Aston-Reese
23
RW
9
1
2
3
17
6
Tom Kostopoulos
38
RW
7
1
2
3
12
-1
Frank Corrado
24
D
6
1
1
2
4
4
Chris Summers
29
D
8
0
2
2
4
-1
Zach Trotman
27
D
5
0
2
2
2
1
Jarrett Burton
26
C
5
1
0
1
2
3
Casey DeSmith
26
G
6
0
1
1
0
0
Tristan Jarry
22
G
5
0
1
1
0
0
Colin Smith
24
C
2
0
1
1
2
2
Jarred Tinordi
25
D
2
0
1
1
2
1
Dylan Zink
24
D
5
0
1
1
2
1
Ethan Prow
24
D
4
0
0
0
2
-3
Frederik Tiffels
22
LW
3
0
0
0
2
0
Kevin Spinozzi
21
D
3
0
0
0
2
3
GOALTENDING
Player
Pos
GP
MIN
GA
SH
AVE
SVPCT
W-L-OT
Casey DeSmith
G
6
374
12
1
1.92
0.934
5-0-1
Tristan Jarry
G
5
302
16
0
3.18
0.897
3-2-0
*Be sure to check out Rick Buker's books,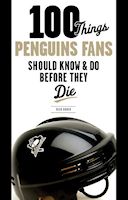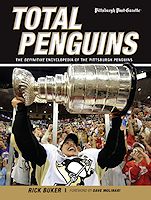 available at TriumphBooks.com, Amazon.com, and BarnesandNoble.com