I've never seen one up close. But I'd imagine the injury bug is a mean-lookin' critter. Kind of a cross between an army ant, a dragonfly and a wasp. With large, layered wings, compound eyes and huge, pincer-like mandibles. Perfect for putting the bite on unsuspecting hockey teams.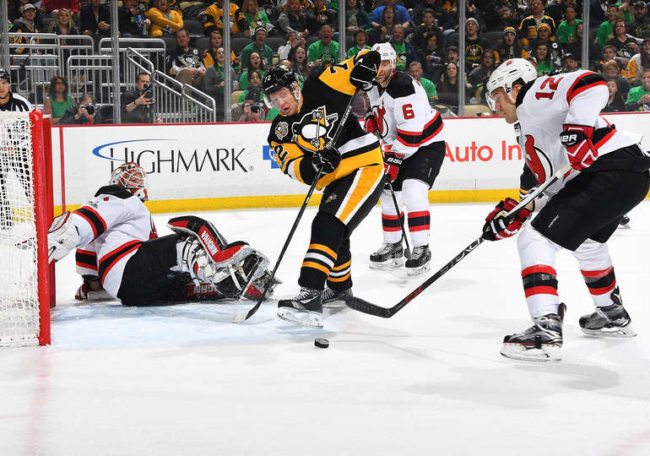 It's sure done a number on our Penguins of late. To the tune of 72 man-games lost over the past month, not counting Pascal Dupuis (retired but still on the payroll).
Putting it into perspective? Metro Division rival Columbus has lost 92 man games all season, excluding retiree David Clarkson.
And the hits just keep on coming. Add superstar scorer Evgeni Malkin and minutes-munching defenseman Ron Hainsey to the team's burgeoning MASH list. Both missed the St. Patrick's Day clash with New Jersey due to upper-body injuries.
Our guys keep battlin' all the same. Last night they got production from all four lines—not to mention a deceptively strong 32-save effort from goalie Matt Murray—to dump the Devils, 6-4, at PPG Paints Arena.
Typical of the Pens' recent efforts, it was hardly a Rembrandt. Counting the recent shootout loss to Calgary, the locals yielded four goals for the third-consecutive game. They continued to allow a ton of shots on goal. Thirty-six, to be precise.
Their attention to detail? Woefully short of Selke standards. As witnessed by the passel of breakaways and odd-man breaks afforded New Jersey.
"I think tonight is one of those games where you just have to find a way to outscore whoever you're playing," noted Sidney Crosby, who enjoyed a three-point night.
Fortunately, No. 87 had lots of help.
Following a pretty shake-and-bake tally by the Devils' Kyle Palmieri, Phil Kessel got the locals off the schneid at 6:37 of the first period. Playing the off wing at coach Mike Sullivan's behest, No. 81 gathered up a rebound of his own blocked shot, cut to the high slot and beat netminder Keith Kinkaid. Snapping an onerous, month-long goal-scoring drought in the process.
Minutes later, Jake Guentzel pounced on a loose puck to hand the Penguins the lead. However, Stefan Noesen soon victimized a late arriving Derrick Pouliot, and the Devils knotted the score at 2-2.
Channeling a little luck o' the Irish (his middle name is Patrick), Crosby loomed ever large. "El Sid" swept home an artful, no-look slap pass from Mark Streit on the power play 14.5 seconds before the horn. His first of two goals on the evening.
Nick Bonino and former Pen Beau Bennett exchanged markers in the second period. Then the Pens pulled away in the final frame, thanks to a slick bit of teamwork by the makeshift fourth line.
Back from his suspension, big Tom Sestito displayed good hands and better feet, kicking the puck to his stick blade to work a nifty give-and-go with Tom Kuhnhackl, who in turn fed a short pass through the slot to Carter Rowney. Displaying the patience of Job, Rowney held the puck until Kinkaid committed, then coolly deposited it into an open net for his first NHL goal.
Palmieri struck for his second goal of the night at 16:29 to provide some late drama. But Crosby potted an empty-netter in the final minute to secure two points for the black and gold.
Sullivan was most appreciative of his captain's effort.
"We have some difference-makers," he said. "It starts with Sid. When you can build around a guy like that, I think that really makes your team better and the people around you better."
Puckpourri
Crosby's assist was the 640th of his career, tying him for second place with Jaromir Jagr on the Pens' all-time list behind Mario Lemieux. At present, Sid is tied with Boston's Brad Marchand for the NHL lead with 37 goals.
The Penguins outshot New Jersey, 43-36, and won 52 percent of the faceoffs. Rowney led the way, winning 80 percent of his draws.
Patric Hornqvist returned to the lineup after missing five games with a concussion. He picked up an assist in 15:49 of action.
Kessel's goal was his first since February 16—a span of 14 games. Guentzel has 32 goals this season (11 with the Pens, 21 for the Baby Pens). Along with Crosby, Rowney (1+1) and Kuhnhackl (two assists) enjoyed multiple-point games.
With his second assist of the season, Sestito improved his scoring rate to 2.59 points per 60 minutes.
Hainsey is listed as week-to-week. No word on the exact nature or severity of Malkin's injury. The Pens are 5-1-2 without Geno.
*Be sure to check out Rick Buker's books,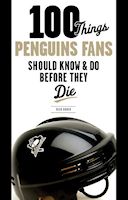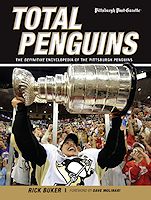 available at TriumphBooks.com, Amazon.com, and BarnesandNoble.com