Change. It's inevitable. Some of us embrace it. Others fear it. Many of us, just like the ostrich, bury our head in the sand and refuse to accept it, while still others argue adamantly against it.
Whatever path we choose, we simply cannot stop it. Like the concept of time. You cannot stop that either.
Change happens.
Such is the case with our Pittsburgh Penguins, in 2017-18 and moving forward in the coming years.
If you'll allow me, I want to take you all on a little journey. Let's consider a few factors or, for a better word, variables that will cause change regarding our Penguins.
The first point I wish to make? Most of these variables are not in our control. Items such as the salary cap, player injuries, arbitration, local and regional economic conditions that affect disposable incomes, other major sports (such as the NFL, NBA, MLB, MLS, NASCAR, PGA, etc.), regional biases in the NHL, failure of other NHL franchises, government regulations, and the most important variable of all in my opinion…..greed!
We all can add to this list of variables, but you get my point.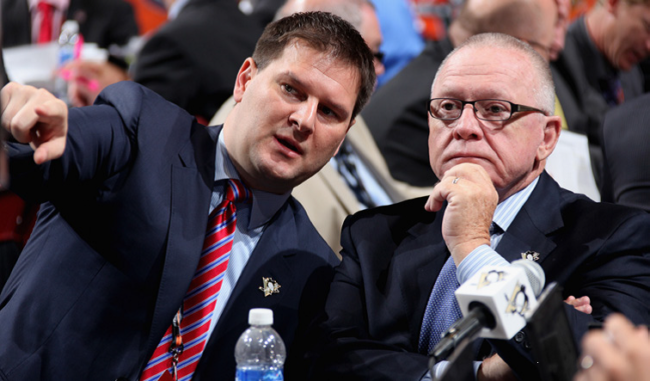 My second point is that success itself ultimately brings change. Being back-to-back Stanley Cup champions only makes the situation far worse. We lost Jason Botterill to Buffalo to become their new GM. In turn, he has taken several off-ice personnel with him. Our former director of scouting, Randy Sexton, is a key one for sure. We lost fan favourite Rick Tocchet to Arizona to become their new head coach. Former Pens GM Ray Shero has tapped into our system as well in the past few years.
Because of these actions, we now have Bill Guerin as a new assistant GM, Mark Recchi and Sergei Gonchar as new assistant coaches to Mike Sullivan. There were several other off-ice changes as well.
If we were the Arizona Coyotes and failed to make the playoffs for many years, I highly doubt we would see other NHL teams "stealing" our management and off-ice talent as frequently as it has happened.
The same can be said about our players. Would Nick Bonino be able to get a $4.1 million contract if he had not played on back-to-back Stanley Cup teams? What about veteran players like Ron Hainsey? He certainly benefited from playing these past few months for the Pens. So being successful can also be a curse. Others take notice.
Oh, the pains of being champions!
My third point, and the one change I see that really affects our team and the entire league itself, is greed! Does Connor McDavid not warrant his new $12.5 million a year contract? Yes? No?? I'm sure we will all have an opinion on this.
What I really want to bring to light is the outrageous salaries the mid- and lower-level players are now receiving. They're simply unsustainable in the long term.
Please understand me clearly…I don't blame the players for these salaries! If a team is willing to pay you $4-7 million a year, you take it. The blame rests solely on the owners and management of the NHL. They created this situation.
The problem it is causing? A future economic crisis in the NHL that will eventually see several small market teams closing their doors because they cannot afford to spend up to the maximum cap level.
Does this make good business sense to you?  It's all about greed, my friends.
Some will argue that the current CBA with the current 50/50 revenue sharing system will insure the economic stability of the league. To those people I say, respectfully, I disagree with those assumptions. Yes, it may control the salary-cap level. But, because of the foolish salary amounts being paid to support players today, you are forcing the weaker teams to spend more money for less talented players and causing them severe economic hardship. Then, you ultimately force these smaller market teams to field lower cost, uncompetitive, AHL-caliber teams whose sole purpose in the NHL is to provide opposition for the stronger teams over an 82-game regular season schedule. This will spell the end of the parity that exists in the NHL today.
That is one change I rigorously oppose. I fail to see the long-term logic and benefit for our game.
How about you?
My final point is about our beloved Penguins. I applaud GM Jim Rutherford for his signings to date, and for showing restraint in the midst of all the crazy spending by his fellow GMs. We've all had some disagreements over a specific player or players that got signed this past month. But, overall, the Pens are in a good place.
This doesn't mean that change will stop. It never does. We have two very crucial arbitration hearings coming up in the next 20 days. I am deeply concerned about these hearings, my fellow Pens fans.
To be frank, I am much more concerned about these hearings than the health of Kris Letang. If Letang has long-term health issues and can't play this season (and I pray he's okay), there are specific procedures in the current CBA to deal with that.
If Conor Sheary receives a $4 million-plus annual pay day from the arbitrator, it will not bode well for the future of our team. It will set a standard for all the young kids in our organization that, as I said above, will simply be unsustainable. I also worry about the team's overall chemistry if that were to occur.
To some, this is not an important issue. Others have no opinion on the subject. I fully understand and support everyone's right to their own thoughts and feelings.
For me, I wanted to bring up the subject of change, of which much is beyond our control, and the seriousness of the arbitration hearings being held within the next 20 days to light, so people may consider what really is happening inside our NHL.
I leave you all with the ultimate question. What would you do if the independent arbitrator awards Sheary and Brian Dumoulin upwards of $8 million of our $9.6 million in cap space and we are left with less than $2 million to sign two center men?
Remember, what the arbitrator decides is beyond our control.
This will definitely bring change to our team!
Thanks for reading…